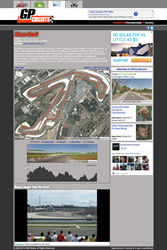 Race tracks each have a unique history and personality, sometimes as grandiose as the riders who master them.
San Diego, CA (PRWEB) October 03, 2013
SMR Media, the creators of SundayMorningRides.com (SMR), announce the formal launch of their newest web portals, GPCircuits.com and BikerRallyRoads.com.
"GP Circuits pays homage to the world's most historic race venues – and some of you may have never heard of," says Abel Lin, co-founder of SMR Media. "As true gearheads, our love of motorcycles crosses-over into racing at all levels. Whether it's World Superbike, MotoGP or your local club events, we know that the associated race tracks each have a unique history and personality, sometimes as grandiose as the riders who master them." GP Circuits provides a platform for enthusiasts to interactively explore these historic venues with access to information, pictures and SMR Media's optimized mapping features, all from a single portal organized by region or race series.
Biker Rally Roads follows in the tradition of SMR, providing interactive maps of the best biking roads organized by proximity to the nation's top motorcycling events and meetups. "As the popularity of SMR has grown, we've not only amassed and curated an incredible amount of quality content, but we've also attracted riders across the entire motorcycling community. Clearly, a one size fits all solution no longer applies," explains Lin. "With Biker Rally Roads, we are answering the call of one of our most active communities to better tailor our content to their interests." Biker Rally Roads tracks national rallies and meetups, presenting the best motorcycle roads local to each event. A key feature of Biker Rally Roads is the ability for event coordinators of all levels to post their own rally locations for free. Once verified, a rally event page will be generated and populated with local motorcycle rides - instantly creating a valued resource for these meetups.
With the release of these two affiliate sites, SMR Media's portfolio now extends to four premiere properties. Meanwhile, SMR Media's B2B operations continue to provide mapping and data solutions to partners in the motorsports and travel communities.
About SMR Media: SMR Media's (http://www.smrmedia.com) family of web sites includes SundayMorningRides.com, DailyMotoRide.com, GPcircuits.com, and BikerRallyRoads.com. In addition to its online properties, B2B operations provide geospatial and data solutions for the online motorsports and travel communities. Through grass-roots consumer support and strategic industry partners, SMR Media has forged a reputation for no-nonsense, to-the-point content and data presentation. Created in partnership with your product development team, SMR Media's custom mapping and data delivery & syndication solutions will engage your users and energize your advertisers. SMR Media's multi-faceted approach to information delivery challenges enthusiasts to "Own the Road, Share the Journey!"
###