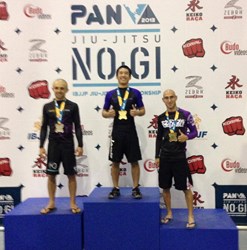 "He first began training in his teens and has consistently done well both on the mats and in school."- Julius Park
Baltimore, MD (PRWEB) October 04, 2013
Crazy 88 Brazilian Jiu Jitsu competitor, Chris Tran, took Gold at the 2013 No Gi Pan American Championship hosted by the International Brazilian Jiu Jitsu Federation (IBJJF) in New York City on September 28.
The IBJJF is considered the largest sanctioning body of Brazilian Jiu Jitsu hosting tournaments and championships each year all over the world. The events are for both the gi (traditional uniform) and no gi (without the uniform). IBJJF competitions are known for attracting the toughest competition the sport has to offer.
Tran had a strong 2013 season by finishing second at World Championships at a lower belt level. After the season, he was promoted to the rank of Purple belt having already competed since the start of the summer. The Pan Ams mark the first competition for Chris in no gi at Purple belt.
Tran had three tough matches, one against an opponent who had previously beat him in the gi. Chris won two matches by points and one by submission to take Gold in the Male Purple Rooster division.
Head Instructor, Julius Park said of Tran, "Chris is a really great example of how working hard can pay off. He first began training in his teens and has consistently done well both on the mats and in school." Park continued, "He just began his first year of college at the University of Maryland - College Park and is still competing at the most elite level. Good things are in store for him."
If you're interested in Brazilian Jiu Jitsu, Muay Thai Kickboxing or Mixed Martial Arts classes for kids or adults, please contact one of Crazy 88's three locations.
7024 Troy Hill Dr, Suite L
Elkridge, MD 21075
http://www.BaltimoreMixedMartialArts.com
5 Easter Ct., Suite E
Owings Mills, MD 21117
http://www.Baltimore-MMA.com
1845 Brookfield Ct
Frederick, MD 21701
http://www.Frederick.Crazy88bjj.com