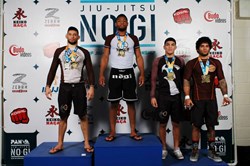 Baltimore, MD (PRWEB) October 08, 2013
Crazy 88 - Frederick located off of Catoctin Mountain Highway has recently announced a newly expanded schedule to now include Muay Thai kickboxing classes.
Muay Thai is martial arts style focusing on striking. Unlike boxing or standard kickboxing, Muay Thai also permits the use of elbow strikes and knees. The growing popularity of Mixed Martial Arts (MMA) events such as the UFC, has also helped the popularity of Muay Thai, as the striking style is one of the most effective for MMA competition.
"We're happy to take the next step in developing the student base in Frederick by adding Muay Thai kickboxing. Its one of the next steps to make our Frederick students full-fledged mixed martial artists," states Head Coach Julius Park.
In order to maintain high standards for its students, Crazy 88 regularly sends its instructors to the top gyms in Thailand. This year, the instructors spent a month at the world-renown Sitsongpeenong and Sitmonchai gyms in Bangkok honing their skills.
If you're interested in Brazilian Jiu Jitsu, Muay Thai Kickboxing or Mixed Martial Arts classes for kids or adults, please contact one of Crazy 88's three locations.
7024 Troy Hill Dr, Suite L
Elkridge, MD 21075
http://www.BaltimoreMixedMartialArts.com
5 Easter Ct., Suite E
Owings Mills, MD 21117
http://www.Baltimore-MMA.com
1845 Brookfield Ct
Frederick, MD 21701
http://www.Frederick.Crazy88bjj.com