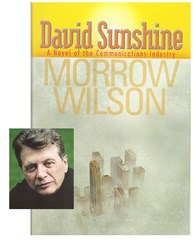 That was the most amazing interview I've ever done
New York, NY (PRWEB) October 15, 2013
For over a year, Morrow Wilson, an old hand at television and its talk shows, whose latest novel, David Sunshine, is dedicated to his late wife Rue McClanahan, has been interviewed regularly about his comic novel satirizing the television industry of the 1960s. Those interviews have taken place mainly on the radio.
"In the olden days, each television talk show's last segment was devoted to an interview with a writer," reflects Morrow Wilson, "But now most of them end with the performance of a rock band. The rare exceptions are non-fiction writers, a few humorists, and even fewer super-best-selling authors."
Recent interviews about David Sunshine include Bloomberg Radio(world-wide), X Zone Radio (also world-wide), as well as a 50-station AM hookup from coast to coast, stretching from AM Radio 970 AM ("The Talk of New York") to WRLA 870 ("Radio for Grownups"), as well as On-line, YouTube, iPod, streaming. Generally from his home phone.
"It's very convenient," confides the novelist, "but I'll let you in on a secret: though it sounds like fun, it usually feels more like a necessary medical procedure than a real conversation.
"Part of that is because you're dealing mostly with interviewers who have not read your book. Interviewing writers without reading their work seems to me an odd career choice, doesn't it? So you have to find a conversational yet diplomatic way to inform your listeners all about the book, knowing you'll get no help from the host."
Until Mother Love.
"That was the most amazing interview I've ever done," enthuses Morrow Wilson. "It was like finding your soul mate 3000 miles away and on the telephone. We laughed together. We complained together. We had a genuine conversation. I'm crazy about this lady. She doesn't just understand the book; she really gets it!"
David Sunshine tells the story of an innocent young man from the country who comes to the big city to make his way in the rock 'em, sock 'em world of television in the era of Mad Men, when even the FCC Chairman referred to television as "a vast wasteland." The novel is funny, heart-breaking and finally encouraging. It has had only good reviews – given four stars on Amazon, five stars by GoodReads.
The Mother Love Show is broadcast over L.A. Talk Radio and has 3.5 million listeners.
http://davidsunshinethenewnovel.com
regaleaglesnest(at)live(dot)com