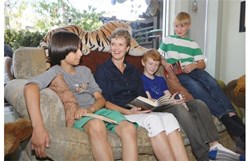 "If you are a mom of boys you need this book in your life!"—Mami's Time Out
(PRWEB) October 02, 2013
Pam Withers, coauthor of Jump-Starting Boys: Help Your Reluctant Learner Find Success in School and Life, was recently interviewed in the Vancouver Sun on how to motivate reluctant readers.
Most boys stop reading for pleasure around the age of ten, a phenomenon called the "Fourth-Grade Slump." As Kim Stallknecht writes, "Fully forty per cent of boys are 'reluctant readers' in school, but the problem isn't intelligence, Withers said. Boys are simply less motivated to read."
Pam Withers' solution is to spend more time reading with "reluctant readers," or to pair two together and so they will have reading buddies. "After 15 hours of reading-buddy contact, one group of fourth and sixth graders in Oregon gained the equivalent of two-and-a-half grades in reading skills, Withers said. Even students with as few as five hours of reading-buddy contact gained the equivalent of a year and a half."
"It's just astounding," Withers said. "What it says is 'Just put in the time.'"
Jump-Starting Boys
Help Your Reluctant Learner Find Success in School and Life
By Pam Withers and Cynthia Gill
It is no secret boys are falling behind in education, with fewer young men graduating from high school and enrolling in college every year. Filled with reassurance and support, Jump-Starting Boys has heart-warming true stories, take-action checklists and over 200 helpful tips. Educators and mothers themselves, authors Pam Withers and Cynthia Gill, MA, LMFT, turn fear and guilt into can-do confidence through easy techniques and achievable solutions. Finally—a book that truly targets concerned parents and helps you work with your son to make sure he beats the odds and becomes a lifelong learner! Jump-Starting Boys is also available as an audiobook.