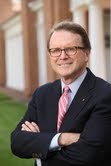 Darden is a destination school. It is not necessarily the easiest, most convenient, or least expensive, but it is a school to which you would go if you really want to change your life in professional ways and in fact in even deeper ways
Philadelphia, PA (PRWEB) October 02, 2013
On a recent visit to Philadelphia, Bob Bruner, dean of the University of Virginia's Darden School of Business, granted an exclusive interview to Clear Admit, a leading publisher of MBA guides and a source of news and information on the world's top business schools.
In the interview, Bruner addressed topics ranging from gender equity and the MBA to growth in massive open online courses (MOOCs) to the ways graduate management education must adapt to and embrace globalization. A complete transcript of the September conversation was published yesterday on Clear Admit's blog.
Named 2012 "Dean of the Year" by Forbes/CNN Money and PoetsandQuants, Bruner has been a member of the Darden faculty since 1982 and its dean since 2005. Over tea in Center City Philadelphia, Bruner shared with Clear Admit the things he believes sets Darden apart from its peers. Clear Admit has for years interviewed admissions directors and career service directors at top MBA programs around the globe, but this is the first interview it has conducted with a top school's dean.
In the Clear Admit interview, Bruner credits Darden's location in small-town Charlottesville, VA, with helping create transformational experiences for its students. "Darden is a destination school. It is not necessarily the easiest, most convenient, or least expensive, but it is a school to which you would go if you really want to change your life in professional ways and in fact in even deeper ways," he said.
Bruner has long set himself apart as a dean who blogs and tweets regularly, which, as he shared with Clear Admit, he does in part because so few other deans do. "I want to bring a set of ideas and a perspective to an audience that I don't readily see in the world," he said. "There are few deans that blog about their own work or the world around them or higher education. I think that's a shame."
On the question of gender equity at top MBA programs, Bruner acknowledged that he read a recent New York Times article on the experience of female MBA students at Harvard Business School with humility and has pondered the issues it raised. "We don't put up with the kind of steamrolling that the article implied – not only for women, but for other groups – in the sense that class discussions are dominated by white males or people who have industry experience," he said. "Our faculty are really trained to bring out students from a variety of perspectives. Honestly I think that leads to better discussions of case problems. More importantly I think it models the kind of leadership that we inspire our students to demonstrate."
As to what to watch for in the year ahead out of Darden, Dean Bruner had a ready answer: "Women, technology, and globalization will be three very important themes for us this coming year."
***
Clear Admit is an authority on the business school admissions process and a leading publisher of MBA admissions guides. Founded by Wharton MBA graduates with extensive admissions experience, the firm has been featured in dozens of publications including Bloomberg BusinessWeek, The Wall Street Journal and The Economist. Clear Admit also provides admissions consulting services to business school applicants using a highly personalized methodology that combines the perspectives of MBA admissions officers, expert editors and MBA students to help maximize prospective applicants' chances for acceptance at top schools.