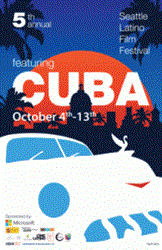 'With subtitles in English on every film, this festival is our cultural gift to Western Washington, and serves as the Northwest's largest celebration of National Hispanic Heritage month,' said Jorge Enrique González-Pacheco, founder and executive director
Seattle, WA (PRWEB) October 01, 2013
The 5th annual Seattle Latino Film Festival (SLFF) comes to Seattle, Bellevue and Tacoma Oct. 4-13, featuring the debut of 30 films from 17 Latin American countries and guest appearances from Academy Award and Grammy Award wining director Fernando Trueba (Belle Époque), actor Damian Alcazar, (The Chronicles of Narnia: Prince Caspian), Oscar-nominated Director Luis Mandoki, and others. This year's 10-day festival festival will celebrate Cuban cinematography, and is the Northwest's largest tribute to national Hispanic Heritage Month. Tickets and a growing schedule of events are available at http://www.brownpapertickets.com/producer/283878, and at http://slff.org/. Fee-free donations to support the Seattle Latino Film Festival are being accepted at http://www.brownpapertickets.com/event/426860.
"With subtitles in English on every film, this festival is our cultural gift to Western Washington, and serves as the Northwest's largest celebration of National Hispanic Heritage month," said Jorge Enrique González-Pacheco, founder and executive director of the Seattle Latino Film Festival. "Our goal is to educate and to broaden local awareness of the richness and diversity of Latin American cultures."
González-Pacheco, an internationally-recognized poet and author, worked in the Cuban film industry for many years, and spent time working with the Miami International Film Festival. His connections in the industry and his passion for Latin American art and film have helped him to attract some of the biggest names in Latin American cinema to the Northwest.
SLFF is Gonzalez-Pacheco's labor of love, driven by his sense of mission to connect locals to the diverse cultures of Latin America, as the community of Hispanic and Latino residents has grown to 11% of the population of Washington State. The $100,000 budget film festival is supported mostly by in-kind and private donations, which is why donations are graciously accepted online.
SLFF will operate out of multiple theaters, including the Seattle Independent Film Festival (SIFF) Uptown Theatre, AMC Pacific Place, the Grand Illusion Cinema, the Bellevue Youth Theater, Bellevue City TV, the KCTS9 Studios at Seattle Center and the Washington History Museum in Tacoma. Special events will include after-screening receptions, a gala and tribute to Fernando Trueba, a special evening with the Oscar-Nominated director Luis Mandoki, and a panel and reception called Latinos: The Changing Face of Washington, presented by Enrique Cerna at KCTS9 Studios at Seattle Center.
For more information about the festival, including the lowest-priced tickets and growing schedule of events, go to http://www.brownpapertickets.com/producer/283878. A complete schedule of events is available at http://www.slff.org.
Brown Paper Tickets (http://www.BrownPaperTickets.com), the world's only Not-Just-For-Profit ticketing company, creates stronger communities through events, donations, and a business model that prioritizes people over making the highest profits. The company offers the most-customizable ticketing and event registration tools, donates 5 percent to causes in the category of each ticket buyers choice, pays employees a week's salary each year to work for nonprofits, and employs a team of "Doers" to build healthy communities.