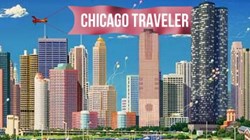 ChicagoTraveler.com has put together a 'party and crash' guide, including best hot spots to get freaky, and some hotels to call home away from home for this scary season.
Chicago, IL (PRWEB) October 08, 2013
With the scary season upon us, it's time to get down and dirty with one of wild upcoming Halloween events. ChicagoTraveler.com has put together a "party and crash" guide, including best hot spots to get freaky, and some hotels to call home away from home for this scary season.
Where to Party
Zombie vs. Vampire Pub Crawl - Oct. 26
Chicago beware, zombies and vampires will swarm the streets on October 26! The Wicker Park bar scene will never be the same after the monsters have their way with it. The freaky fun starts at 2 pm and includes entry and drink specials at every bar, entry to the pub crawl after party (we all know zombies and vampires don't sleep), a survival kit with a map, an awesome t - shirt, and entry to the costume contest! Tickets are available now at CostumeCrawls.com, and for a screaming good deal pub crawlers can receive $5 off by entering the promo code "ChicagoTraveler" during online checkout. Discount effective until October 18th.
This haunted pub crawl is put on by Costume Crawls, and is sponsored by Halloween Hallway. Halloween Hallway provides Chicagoans with the best halloween stores sprinkled throughout Chitown, so be sure to snatch up the best costumes before getting stuck wearing last year's costume again.
Dead on Division - Thursday Oct. 31
Party it up like a (dead) rockstar on all hallow's eve at the annual Dead on Division. Festivities include costume contests, drink specials, and entertainment. Participating bars are Bootleggers, Mother's She-Nannigans, Mother's Too, The Lodge and Hangge Uppe.
Freaky Deaky V Halloween Costume Party - Oct. 25 - 26
Freaky Deaky is taking over the Aragon Ballroom for two days of terrific terror. Featuring Griz, Danny Brown, Kill Paris, TokiMonsta, Dada Life, Clockwork, and Craze. Limited presale tickets, so make sure to snatch them up before the zombies do.
Where to Stay
Fairmont Chicago
Centrally located and beautifully designed, the Fairmont Chicago is the perfect crash pad (and a classy one at that), for Halloween in Chicago. Get in one the killer deals going on during Halloween! Long night and don't feel like getting up and checking out? Try the sleep in lake package for a longer snooze after too much of that green party punch.
Sofitel Chicago Water Tower
Prices as awesomely scary as you will hopefully look this Halloween. With incredible suites, delicious dining and luxurious amenities, the Sofitel Chicago Water Tower is an unbeatable option for now, later, or anytime visiting Chicago. Feel like a true celebrity while staying at the Sofitel Chicago Water Tower this spooky season.
Best Western River North
During Halloween everyone could use a little extra cash to spend on the essentials (like witch fingers and those disgusting wax lips), so get the most for your buck at the Best Western River North. What this hotel lacks in price, it makes up for in comfort and convenience. Located downtown, the Best Western River North is an affordable and perfectly located place to snooze after the witching hour is over.
About ChicagoTraveler.com:
Chicago is one of the top vacation destinations in America famous for its annual events, popular foods, and architecture and top sports teams. ChicagoTraveler.com guides travelers to all the best things to do, top places to eat and deals on the best places to stay in Chicago. Lindsey Skinner, the editor of ChicagoTraveler.com, has all the best knowledge to plan a perfect Chi-Town escape.