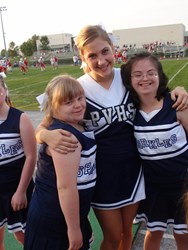 Students participating on inclusive teams are breaking down social barriers...
New York, NY (PRWEB) October 02, 2013
World of Children Award ([http://www.worldofchildren.org) will honor 20-year-old Sarah Cronk – founder of the nonprofit, The Sparkle Effect, Inc. – in New York City on November 7, 2013 for her work creating inclusive dance teams for disabled children across the country.
Sarah Cronk grew up watching her older brother, Charlie, struggle to make friends due to his disability. Her brother would often eat alone in the nurse's office after being turned away from table after table. It wasn't until a popular swim team captain invited Charlie to sit at his lunch table and encouraged him to join the swim team that his life began to turn around. Sarah was moved to take action when she witnessed Charlie's confidence soar from this simple act of kindness.
She was determined to find a way to include students with disabilities at her high school, who, like Charlie, were marginalized and excluded. In 2008, Sarah created and coached the nation's first inclusive cheerleading squad. One year later, she established The Sparkle Effect, Inc.
"Students participating on inclusive teams are breaking down social barriers, creating harmony among classmates, replacing insecurity with confidence and joy, and demonstrating that when we open our minds and our hearts to people of all abilities, everyone benefits," Sarah said.
Since its inception, Sarah has generated over 100 inclusive cheerleading and dance teams in middle schools, high schools and colleges across the U.S. that directly include over 2,000 students. Sarah will use World of Children Award funds to provide uniforms for team members and leadership training to potential Sparkle Effect teen leaders, as well as to inspire and generate new inclusive teams.
"We are deeply inspired by the remarkable contributions our Honorees have made to changing the trajectory of children's lives for the better," said Harry Leibowitz, World of Children Award co-founder and co-chair.
For 16 years, World of Children Award has used a rigorous vetting process to identify the world's most effective changemakers for children and provide funding for their efforts to improve young lives. The nonprofit's exhaustive research and vetting of applicants for their awards has been lauded by some of the world's leading philanthropic organizations.
"Sustainable, practical giving to real life heroes, that's how we operate," said actress Stephanie March, celebrity ambassador for World of Children Award. "We are working to create a world that no longer needs our services. Until such a time comes, World of Children Award will continue to elevate those in the field."
World of Children Award is led by co-founders Harry Leibowitz and Kay Isaacson-Leibowitz, retired senior executives from Procter & Gamble and Victoria's Secret respectively, who first started the organization to honor individuals serving children with a Nobel Prize-like award. Since 1998, World of Children Award has granted more than $5 million in cash grants and program support to 100 Honorees who are the driving force behind programs serving children in more than 140 countries.
ABOUT WORLD OF CHILDREN AWARD
Often referred to by the media as the Nobel Prize for Child Advocates, World of Children Award (http://www.worldofchildren.org) provides funding and recognition to support life-changing work for children. By discovering and elevating only the most effective changemakers for children worldwide, World of Children Award sets the gold standard in child advocacy.
All World of Children Award Honorees are dedicated to serving vulnerable children, many even risking their lives to save the life of a child. These extraordinary heroes work on the ground for little or no pay, running proven, sustainable programs with a track record of success.
Every year, World of Children Award receives hundreds of nominations for their annual Awards. Using rigorous criteria, World of Children Award selects only a handful of individuals who are making an extraordinary difference in the lives of children. Review panels are comprised of leaders with expertise in child-related issues. Once finalists are chosen, an international investigative agency leads an on-site investigation and independent audit to ensure programs adhere to the highest performance standards.
On November 7, 2013, World of Children Award will present one Health Award, one Humanitarian Award, two Youth Awards, one Alumni Award and one non-monetary Advocacy Award.