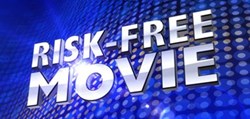 Albuquerque, NM (PRWEB) October 02, 2013
REELZCHANNEL today announced the mega blockbuster Marvel's "Iron Man 3" is the latest REELZ Risk-Free Movie. The Risk-Free Movie promotion is the network's way of sharing its enthusiasm for movies with viewers who seldom or never watch Video On Demand (VOD) movies by offering them a reimbursement if they don't like the movie. The Risk-Free Movie promotion for Marvel's Iron Man 3 runs through Sunday, November 3, 2013.
"We're thrilled to have Marvel's 'Iron Man 3' as our latest Risk-Free Movie with its incredible star power in Robert Downey Jr., Gwyneth Paltrow, Don Cheadle and Ben Kingsley in addition to its family-friendly blockbuster appeal," said John deGarmo, REELZCHANNEL SVP of Distribution. "At REELZ, we love movies and with so many titles available on Video On Demand, we're offering viewers the opportunity to pick a Risk-Free movie that we guarantee they'll enjoy or we'll pay for it. It's what makes the REELZ Risk-Free promotion so attractive as an entertainment option."
To participate, movie fans simply need to order Marvel's "Iron Man 3" on VOD through their cable or satellite provider between Tuesday, September 24, 2013 and Sunday, November 3, 2013 and if they don't like the movie, they simply visit reelz.com/riskfree to start their reimbursement process. Reimbursement is fulfilled by completing the claim form received via email after the registration and submitting it with proof of completed VOD transaction during the promotional timeframe.
About Marvel's "Iron Man 3"
Marvel's Iron Man 3 pits brash-but-brilliant industrialist Tony Stark/Iron Man against an enemy whose reach knows no bounds. When Stark finds his personal world destroyed at his enemy's hands, he embarks on a harrowing quest to find those responsible. This journey, at every turn, will test his mettle. With his back against the wall, Stark is left to survive by his own devices, relying on his ingenuity and instincts to protect those closest to him. As he fights his way back, Stark discovers the answer to the question that has secretly haunted him: does the man make the suit or does the suit make the man?
About Marvel Entertainment
Marvel Entertainment, LLC, a wholly-owned subsidiary of The Walt Disney Company, is one of the world's most prominent character-based entertainment companies, built on a proven library of over 8,000 characters featured in a variety of media over seventy years. Marvel utilizes its character franchises in entertainment, licensing and publishing. For more information, visit marvel.com.
About REELZCHANNEL—Hollywood Happens Here™
REELZCHANNEL is the only cable and satellite network devoted to delivering entertaining and fresh programming that explores, uncovers and lives inside the magic of Hollywood wherever it happens. The network is also home to ambitious television events, miniseries and series featuring big stories and big stars as seen with the Emmy®-winning The Kennedys and Ken Follett's World Without End. And, building directly on The Kennedys, JFK: The Smoking Gun promises to solve the assassination of JFK when it premieres on Sunday, November 3, 2013. REELZ is also co-developing a miniseries based on J. Randy Taraborrelli's highly acclaimed book, After Camelot: A Personal History of the Kennedy Family from 1968 to the Present, with Muse Entertainment. With movie and entertainment experts, including Leonard Maltin, Richard Roeper and Sam Rubin, viewers get trusted insight into movies wherever they're playing, whether in theaters or at home throughout the day, every day.
REELZCHANNEL reaches 67 million homes on DIRECTV channel 238, Dish Network channel 299, Verizon FiOS TV channel 233, AT&T U-verse channels 799/1799HD and cable systems nationwide. Find REELZCHANNEL in your area by entering your zip code at http://www.reelz.com/watch. Owned by Hubbard Media Group, REELZCHANNEL is headquartered in Albuquerque, NM with national ad sales based out of New York City with offices in Boston, Chicago and Los Angeles and an entertainment bureau in Los Angeles.
For more information, please contact the REELZCHANNEL Media Line.
877- REELZTV (733-5988) / pr(at)reelz(dot)com