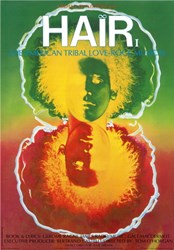 Los Angeles, CA (PRWEB) October 02, 2013
Michael Butler, renowned theatrical producer, today announced that he will be mounting a new, Los Angeles-based production of HAiR: The American Tribal Love-Rock Musical. The new production reunites Butler with the legendary performer Ben Vereen, with the actor/singer/consummate entertainer filling the role of Creative Advisor.
Butler's motivation is based in his concern with the social, environmental and political state of today's world. "I produced the original Broadway production as well as the feature film of HAiR because of my concern for the political drift in America: War, freedom, civil rights, openness, women's rights and the environment were just some of the issues," Butler explains. "Today there are many more problems. They are worse. It's time for HAiR to rise again as a NewNation, to help create a movement to address our common concerns."
In keeping with HAiR's community-minded spirit – which defined a generation of youth in the late 1960s and early 1970s – Butler and his team at HairNewNation are looking to the general public to help fund and promote the new production. A fundraising campaign has been established at crowdfunding site indiegogo.com, featuring a wide range of contributor tiers, from the entry-level "Hugger" at three dollars, all the way up to the premier "Associate Producer" at $15,000, which guarantees the donor an associate producer credit for the show, as well as 10 preferred seating tickets, among many other perks.
Butler and the HairNewNation team realize that not everybody can contribute financially, and through their indiegogo.com campaign at IndieGoGo: HAiR, they also encourage like-minded individuals to spread the word about the show and the causes it supports by sharing on social media platforms such as Facebook, Twitter and Tumblr, through blogging, and through word of mouth.
While Butler is excited to mount a new production of HAiR, the success of the musical is secondary to its potential to inspire a renaissance of the ideals it embodies. "In 1968, when HAiR originally opened, it was a very exciting time," Butler says. "The hippie philosophy had brought about a feeling of true peace and love. In those days there seemed to be a real opportunity of actually making change happen, but over the ensuing decades we have seen a constant erosion of freedom and the other necessities of a democratic society. With this new production of HAiR, we hope to create a platform for a movement to bring about positive change in America."
About Michael Butler
Michael Butler was born in Chicago, Illinois, and attended the University of Virginia and the University of Colorado. He served as Special Advisor on the Middle East to (then-Senator) John F. Kennedy, and as Assistant to Illinois Governor Otto Kerner, Jr. Butler ran for a seat in the U.S. Senate, but abandoned his campaign in 1967 to produce the musical HAiR, which he brought to Broadway in 1968.