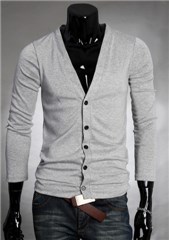 (PRWEB) October 16, 2013
Recently, 4leafcity.com, a well-known dress company in the global market, released its new collection of men's clothes. 4leafcity.com is popular for its high quality items at affordable prices, including Chinese traditional clothes and sexy club wear. Moreover, all of them are offered at discounted prices, up to 40% off, until Oct. 28, 2013.
According to a sales manager with 4leafcity.com, the new range of men's clothes is carefully designed and made by professional dress experts and skilled workers from the company. The clothes come in varied styles and colors. Winter coats, long sleeve shirts, Clubwear and leather jackets are the most popular items in the present market.
"We are making every effort to provide high quality products to customers worldwide. We are devoted to offering an excellent purchasing experience to our customers. Usually, we release our new styles every week. Welcome to our online store," says the development manager.
In addition, 4leafcity.com has updated its website to provide the latest information about the company and its newest products. It hopes to make its online shop a user-friendly platform that can save time for customers.
About 4leafcity.com
Based in China, 4leafcity.com is a leading transnational online B2Ccompany. Its hot-selling products include high quality cheap fashionable clothes, Chinese traditional dress collection, sexy Clubwear dresses, embroidered and plus size T-shirts, and so on. Grasping the global fashion trends, 4leafcity.com is willing to share the philosophy of "passion for fashion" and bring good luck to all customers throughout the world.
More details at: http://www.4leafcity.com/product-men-s-clothing-009.aspx