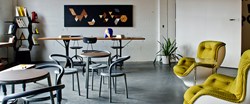 We hope to see PDA emerge as the Sotheby's of new art design.
Portland, OR (PRWEB) October 02, 2013
The Portland Design Auction (PDA) today announced its first-annual Contemporary Art & Design Auction, a rare opportunity for art and design enthusiasts to access works directly from new and established artists and designers. The online auction catalog is available for viewing at bit.ly/14DVdri. Pre-bidding opportunities become available as of Sunday, October 6, 2013, ahead of the live auction on Thursday, October 10 at the inspiring industrial showroom of The Good Mod.
"It's exciting that PDA has created this venue for collecting contemporary design," said Hess. "It gives the designers more exposure and lets the public access them easily." Starting bids for items in the collection run to the high four figures, but include pieces priced starting in the $100 range. The auction features recent, original works spanning a wide range of disciplines. Notable artists and designers such as Meg Callahan, Jason Rens, Philip Iosca, Eric Trine, Jamie Iacoli, and Brian McAllister will be participating.
Highlights include a limited edition "Pongo" coat rack—designed by Brandon Clifford and Wes McGee of Matter Design—which uses minimal hardware and five-axis milling to create a reciprocal frame; the Porter quilt, by Meg Callahan, which uses strip quilting to create a tapestry of repetitive patterns; and a limited-edition black-nickel-plated wire table by Iacoli & McAllister. Other notable works include a gold shark-tooth necklace, a cast stainless-steel bowl and a Pendleton wool kimono, as well as handmade furniture, paintings and other works from contemporary creatives. "We've had our eye on the great things happening in Portland's design scene for awhile," said Mr. McAllister. "And we're very excited to have found this particular avenue for plugging into the creative energy there."
The pieces for this year's auction were selected by a jury comprised of Andee Hess of Osmose Design; Teruo Kurosaki, founder of Tokyo Designers Block, and Spencer Staley of The Good Mod. The inimitable Johnna Wells, of Benefit Auctions 360, will be presiding over bidding—Ms. Wells is one of the top local auctioneers, with extensive experience in the field of fine art auctions. This is the first auction house in Portland to focus on contemporary works directly benefitting the artists and designers participating. "This is an exciting time to be introducing Portland Design Auction," said Spencer Staley of The Good Mod. "We hope to see PDA emerge as the Sotheby's of new art design, but we have taken out the third-party sellers and put the power in the artists' hands."
Special seating and event partnerships are still available. Reservations for the live auction will include a full-color catalog, a custom-designed auction paddle, and an invitation to the pre-auction cocktail hour. Bidding begins at 7pm at The Good Mod, 1313 W Burnside St, Fourth Floor, Portland, OR 97209 (MAP IT). For live auction reservations visit http://portlanddesignauction.eventbrite.com/. Look for us on Design Week Portland's calendar of events at http://www.designweekportland.com/events/portland-design-auction, or for inquiries please email hello(at)portlanddesignauction(dot)com.
About Portland Design Auction
PDA is committed to providing a platform for artists and designers to connect directly with consumers and collectors, promoting art and design across all media.
Media Contact:
Ana Mikolavich
PDA Public Relations
hello(at)portlanddesignauction(dot)com
503.206.6919