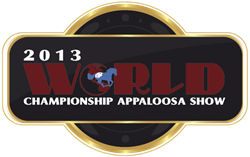 Moscow, Idaho (PRWEB) October 02, 2013
The nine day international competition will showcase some of the industry's most talented, athletic, and versatile equines and their exhibitors that the ApHC has to offer. Exhibitors will be competing in a wide array of classes including jumping, cattle, halter, western pleasure, and unique-to-the-breed horse against horse speed events. The World Championship Appaloosa Show offers an exciting experience showcasing multiple disciplines.
In conjunction with the rewarding competition, the sense of camaraderie will be boosted by several special events that allow for the giving spirit to excel. On Sunday, Oct. 27, the ApHC and World Show attendees will participate in the "Think Pink" Performance. The American Cancer Society Benefit Calcutta will run concurrently with Camas Prairie Stump Race and all proceeds will be donated back to the American Cancer Society.
Friday, Nov. 1, "Toys for Tots" Performance night kicks off with classes including, Most Colorful at Halter, Rope Race, the always popular Freestyle Reining, and the night concludes with the Open Two-Year-Old Snaffle Bit Western Pleasure Futurity, a glimpse at the future of the Appaloosa show arena. Don't forget to bring an unwrapped child's toy for donation, as that will serve as an admission ticket and raffle ticket for the night's performance. Throughout the evening ApHC will be raffling off numerous items donated by various sponsors, vendors, and supporters of the World Championship Show.
The annual World Appaloosa Sale will spotlight impressive yearlings, preferred show horses and breeders' sale horses. Be sure to join in the John Justin West Sale Arena on Wednesday, Oct. 30, to watch as these top prospects go through the select sale hosted by ApHC and produced by Superior Productions.
For more information and list of awards visit http://www.appaloosa.com to download the digital World Championship Appaloosa Show Premium Book and for the most up-to-date information regarding this exciting upcoming event! Also, for complete coverage of the honors to be awarded at the 2013 World Championship, pick up a copy of the November 2013 issue of Appaloosa Journal.
For more information about the Appaloosa Horse Club and its events, please visit http://www.appaloosa.com or call ApHC at 208-882-5578.
The Appaloosa Horse Club (ApHC) was established in 1938 with a mission of preserving, promoting and enhancing the Appaloosa breed. The ApHC has since registered more than 700,000 Appaloosas, which are known for their distinctive color, intelligence and even temperament. True to their reputation as an extremely versatile breed, Appaloosas can be found in nearly every discipline including racing, endurance riding and serving as reliable family horses. The international breed registry is headquartered in Moscow, Idaho, the heart of the Palouse region—the Appaloosa breed's namesake and point of origin.