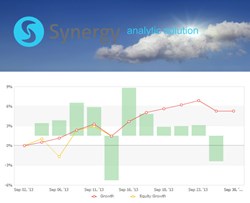 Sydney, New South Wales (PRWEB) October 03, 2013
Synergy Financial Markets Pty Ltd is an independent Australian Financial Services provider that focuses primarily on currency management. Synergy is an innovator in the Individually Managed Account space, and the products and services provided by Synergy are of the highest quality. The Synergy Analytic Solution FX Strategy offers an attractive risk/return ratio with a low correlation to traditional investment markets and a high liquidity. Synergy's services are precisely tailored to the aims and needs of our foreign exchange trading clientele. The team of Synergy combines in depth specialist knowledge, many years of experience in consultancy, client care and asset management for currency mandates. Synergy Financial Markets is fully licensed by the Australian Securities and Investments Commission ASIC.
Product Summary
Investing in spot margin foreign exchange contracts of which 24 currency pairs (including Gold and Silver vs the US Dollar) are analysed on a daily basis to identify strategic trading opportunities. This universe is highly liquid and actively traded, creating a highly scalable vehicle.
Strategy Objective
To achieve medium to long-term capital growth by investing in a foreign exchange trading strategy to target an average return to investors of 1 – 5% per Month. The strategy employs a selective investment in spot margin foreign exchange contracts, which aim to deliver consistent returns in, and remove the volatility of, rising and falling markets.
Investment Process
Economic Indicators: Specific economic indicators are tailored to each currency market based on thorough analysis (for example – constant review of individual country economic data releases; geo-political environment and changes to it; relative interest rates; commodity prices and their impact on currency markets). The Synergy Analytic Solution (SAS – a multi-factor quantitative model) weights economic value factors according to our investment committee method.
Rationale: The investment committee first uses this information to form a medium to long term view for relative directional trading.
Sentiment Indicators: Proprietary momentum indicators over varying time periods; mean reversion indicators; and contrarian indicators - each given a unique weighting.
Rationale: Markets trend in herds, past performers tend to be future performers for a period of time. Even if this period is limited to minutes, our algorithmic systems identify opportunities.
1st Phase Ranking - Economic and Momentum Indicators weighted and combined to provide an initial ranking of currency pairs within a universe.
2nd Phase Ranking - Synergy Analytic Solution (SAS) then applies a discounting formula to certain indicators based on a range of identifiable and quantifiable factors.
Screening - SAS will also screen out currency pairs where additional risk factors are recognised and quantified.