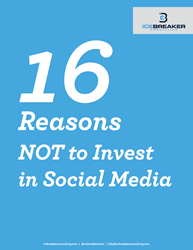 New York, NY (PRWEB) October 08, 2013
The entire Icebreaker Consulting team is pleased to announce the release of a new whitepaper about the power of social media marketing. Entitled "16 Reasons NOT to Invest in Social Media," it identifies and demolishes some of the common concerns that CMOs and their marketing teams express about social media promotion.
Based on business growth specialist Jeff Blackman's tongue-in-cheek list of "16 Ways to Kill a Great Idea," "16 Reasons NOT to Invest in Social Media" addresses many legitimate concerns that marketers and business owners have about social media marketing.
The paper begins by admitting that not every social media strategy is successful. According to the report, there are "correct" and "incorrect" ways to promote content, products and services through social media platforms like Facebook, Twitter, Pinterest and LinkedIn. Campaigns that are poorly targeted or improperly managed tend to produce subpar results that can sour business owners and marketers to the entire medium.
"16 Reasons NOT to Invest in Social Media" offers a straightforward way for professionals to avoid the pitfalls of a poorly executed social media campaign. After presenting 16 of the most common arguments against social media — from "That's not how we do things around here" to "Our folks aren't properly trained" — Icebreaker's whitepaper offers a simple solution: Attaching the words "up until now" to the back end of each phrase.
The Icebreaker Consulting team understands that these words must be matched by constructive action. On this note, "16 Reasons NOT to Invest in Social Media" makes a key point about the implications of the "social media revolution." Like the development of high-speed Internet, the proliferation of social media platforms and an undeniable surge in user engagement will have lasting ramifications for business owners and marketers. In the words of the whitepaper's authors, those who refuse to accept social media as a viable marketing tool risk consigning themselves to the "tail end of technological advancement."
"16 Reasons NOT to Invest in Social Media" also stresses the sheer diversity of potential social media strategies and explains why marketers must conduct thorough research to identify the optimal platforms, target audiences and content profiles for their campaigns.
The complete, unedited version of Icebreaker Consulting's "16 Reasons NOT to Invest in Social Media" whitepaper is available today. For more information about Icebreaker's suite of social media and online marketing services, follow them on Twitter, Facebook, linkedIn, Pinterest, Instagram, Google+ or email info(at)icebreakerconsulting(dot)com. They also maintain a blog at http://www.icebreakerconsulting.com/blog.
Jeff Blackman is a Hall of Fame speaker and bestselling author. Please take a peek at http://www.jeffblackman.com and be sure to subscribe to Jeff's e-letter, The Results Report.