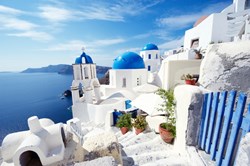 (PRWEB) October 03, 2013
FlyBusinessCheap.com is announcing this autumn as the perfect time of year for luxury airfare savings. Currently going on until early December, all business and first class fares to Asia are being heavily discounted; this includes flights to Russia, Hong Kong, India, Turkey, Singapore, Qatar, and any other country that resides on the Asian continent.
Booking an end of the year vacation to Thailand might undoubtedly be one of the most exciting decisions one can make. As one of the most popular tourist destinations in Southeast Asia, Thailand is a country of diverse surroundings. In this country one can find clear blue seashores in one setting, before venturing on to another location surrounded by jungle wildlife. If jungle wildlife is not exactly one's calling, then be rest assured, as Thailand is renowned for having some of the best luxury hotels in the world. Visiting the beautiful Ko Phi Phi islands, made famous in 2000 as they were featured in the movie "The Beach", could possibly lead a person to start pinching themselves in an effort to make sure they're not dreaming; the beauty of the surroundings are truly beyond belief. FlyBusinessCheap.com is currently offering business class airfares to Thailand that begin at only $3,467.
Most people don't usually think of Israel and Asia in the same thought process; however FlyBusinessCheap.com is here to change that. Because of the fact that Israel is technically located in Asia, the luxury flight specialists at FlyBusinessCheap.com have decided to include it in their special seasonal promotion. Israel is full of historical significance throughout, incorporating both ancient and modern frills to make for an overall captivating environment. Israel's official capital of Jerusalem is a very old city where one can even find traces of the Ottoman Empire; the capital is considered sacred to Jews, Christians, and the people of Islam. Also a popular sight to see is the Dead Sea, with its shores at the lowest elevation in the world; it is recognized as one of the saltiest seas in the world causing swimmers to float like buoys! Embark on a voyage to Israel in luxury with business class fares starting at only $3,352.
Nothing could quite possibly compare to trekking across a country that covers two continents; if time allowed it, one could explore such a country for months at a time without ever coming close to discovering all of its hidden treasures. This country is Russia, and it is the largest nation in the world, characterized by glacier capped mountains, historical artifacts, and vast cities that ripple with culture. In this country one can explore Moscow, gazing at 15th century cathedrals before boarding the Trans-Siberian Railway (part of the longest railway system in the world) to make a stop at the oldest lake in the world, Lake Baikal. There is absolutely nothing that this country has a shortage of; the only thing that could possibly fall short is the amount of time someone can allot to exploring this giant nation. Visit the largest country in the world and get there in comfort with business class flights to Russia that start at just $2,984.
FlyBusinessCheap.com absolutely guarantees the lowest fares on the market for international first & business class flights and they work exclusively with the world's finest airline companies.
Give them a call and you will be routed directly to one of the 100+ luxury flight specialists available in any one of three office locations in San Francisco, New York, or Chicago.
Look no further than FlyBusinessCheap.com for the easiest, fastest, no hassles discount luxury flights.