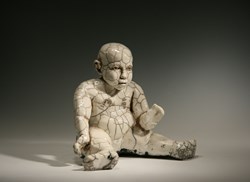 "Traveling afar is critical to being recognized as a Prophet", states Leah Poller, Director of the Art Alliance (Harlem, NYC)
Hong Kong China (PRWEB) October 03, 2013
The third edition of Asia Contemporary Art Show opens October 3-6 with more than 2000 artworks from around the world. For more than 25 years the Art Alliance of New York City brings its "all-inclusive" eye to art by bringing its curated exhibition "New York-Hong Kong" to ACA, with the works of 6 artists representing unique perspectives on the reality of creativity today, emanating from NYC, capital of the Art World.
For the Art Alliance, participating in ACA for the second time, the road to Hong Kong has become a familiar path to connecting with Asia's burgeoning collector base. "Traveling afar is critical to being recognized as a prophet," states Art Alliance director and premier sculptor Leah Poller. "Global culture has entered the golden age thanks to air travel, the proliferation of art fairs and the internet. We are thrilled to bring our personal testimony to the power of art to unite cultures."
Visitors to the ACA Fair will be introduced to first time ACA participants Bob Clyatt whose raku fired ceramics honor Asian traditions and themes while introducing Western perspectives. Ken Kraus, a natural colorist, brings a lifetime career as an architect to his luscious landscapes of strong yellows, vibrant oranges and strong blues, all suggestive of sun-soaked days. The consummate New York creative Bobbi Van translates the excitement and cacophony of city living on the unusual support of supple vinyl and reverse painting on Plexiglas. In an alchemistic duet, photographer Robin Hill and poet/sculptor Jim LoParo dance with fire in "The Genesis Series" of photography with a ritualistic vocabulary inscribed in space. Belgian artist Roseline Koener returns to the show with her many layered, spiritually grounded collages of painted papers executed in candy like colors, and sculptor Leah Poller, after multiple visits to China, has added an Asian flair to the latest additions to her world renowned "101 Bed Collection".
ACA Fair director Mark Saunderson says of the Art Alliance's curatorial approach in "New York - Hong Kong "We are excited to see the very diverse body of work presented by Art Alliance - collectors and buyers in Hong Kong expect that from the Show, now in its 3rd edition."
The Art Alliance will be located in Suite 2707 of the JW Marriott Hotel, Pacific Place, Hong Kong, The Asia Contemporary Art Show opens with a special Collector's Reception Thursday, October 2 from 5:00 – 9:00, and Friday from 1:00 – 5 pm, with a VIP event from 5:00-9:30 and Saturday Sunday from 1:00 – 8:30.
About the ART ALLIANCE:
The Art ALLIANCE of New York celebrates its 25 years of international activity with its presentation "NEW YORK - HONG KONG" at the Asia Contemporary Art Exhibition (Hong Kong, October, 2013). Directed and curated by Leah Poller, sculptor and arts activist, with more than 120 exhibitions to her credit, the Art Alliance collaborates internationally with artists, galleries and institutions by offering its unique "inclusive eye" as testimony to the power of art to unite cultures worldwide.
About BOB CLYATT:
Bob Clyatt grew up roaming the countryside of Northern California, ending up studying art at UC Berkeley in the late '70s. Absorbing the zeitgeist of that time and place created a desire for fusion in Bob's work – ancient and modern, organic and technological. Using clay as his central medium connects Bob to the oldest art-making traditions, with a range of techniques such as assemblage and the introduction of modern materials and gesture to bring about a fusion in the work to give it a contemporary voice. Bob has eight years of formal sculpture education at the Art Student's League of New York, under the guidance of Barney Hodes. He lives and works in Rye, NY.
http://www.clyattsculpture
bob(at)clyattsculpture(dot)com
About BOBBI VAN
Bobbi Van grew up in Boston and moved to New York in the 70's. Her fascination with painting reverse on Plexiglas coincided with a deep desire to explore the unconscious and how we see and feel. The contrasts in the paintings/sculptures...transparent and opaque, flat and dense, loose and versus still… are similar to how we experience life. She often uses found objects in her work and builds texture on both sides of the paintings/sculptures to create light and movement. She is inspired by the words of the 13th century Sufi poet, Rumi, "out beyond wrong doing and right doing there is a field of consciousness. I'll meet you there." Bobbi studied with Bruce Dorfman at Art Student's League of New York and has shown her work internationally and in the US. Bobbi lives and works in New York City.
http://www.bobbivanstudio.com
bobbivanstudio(at)gmail(dot)com
About KEN KRAUS
Ken Kraus comes from a family of artists. He attended Pratt Institute where he received a Bachelor of Architecture and studied painting & sculpture in the US and abroad. Exhibiting in numerous galleries in New York, Scottsdale, Rome, Athens, and his work is in many commercial and private collections in the US and Europe. The chromatic burst and formal strength in his works come from the eye of a natural colorist and the hand of a trained architect. His abstract landscapes evoke sun-soaked days in cities or beaches, a world of royal blues and cheery oranges seen through optimistic eyes. Bold strokes of pigment surround the occasional found image - like a tiny photograph of a cityscape - striking a pitch-perfect balance between energetic sweeps of color and clear, tight detail, re-presenting the world in novel color and unusual proportion giving a fresh perspective on life. Kraus lives and works in New York.
http://www.kenkraus.com
e:Kenkraus(at)aol(dot)com
About LEAH POLLER
Leah Poller was trained as a sculptor at the Beaux Arts Academy of Paris, France where she resided thereafter for 20 years. Following an accident in her studio, she began the series entitled "The 101 Bed Collection", in which she examines our relationship with the bed in all its visual, literary and narrative forms. More than a third of our life is spent in bed, yet rarely has it been examined with such humor, pathos, whimsy, sarcasm, tragedy and passion as in her 3 dimensional bronze interpretations. Poller's work has been exhibited extensively in galleries, museums and institutions worldwide (US, France, Mexico, China). In addition, Poller is known for her reinvention of the classic portrait, including her recent tribute to internationally renowned Asian-American saxophonist Fred Ho. Poller lives and works in Harlem, New York.
http://www.leahpoller.com
e:leahpoller(at)aol(dot)com
About ROSELINE KOENER
Originally from Belgium and now living in New York, Koener has been originally inspired by her travels to Senegal, Africa, a land full of colors and vibrancy, unique rhythms and patterns. These experiences initiated her new "free- flowing" process of emergence. These single-color bases give the works depth, connect their parts and circulate the energy, "melding passages punctuated by staccato rhythms, layers upon layers of color building to a harmonious crescendo." Her passion and mission as a creativity growth educator stimulate her expression as sensations gushing out from within. She has exhibited in Europe, Mexico, Asia and the United States where her work has been acquired for major collections. Koener lives and works in Harlem, New York.
http://www.roseline-koener.com
e:roselinekoener(at)gmail(dot)com
About LOPARO/HILL
The Genesis Series is a performance art drawing project combining the elements of earth, fire, air + water and recorded via photography. LoParo + Hill perform the artwork at night along a strip of sand in Miami Beach. The combination of their divergent interests and artistic impulses has led to a powerful connection not only between themselves as artists but also between the nature of art and the art of nature. Loparo is known for his bas-relief frescoes. His exhibition history began in Cleveland, Ohio in 1989, followed by exhibitions in New York, Chicago, San Francisco and Miami. In 1999 he moved to Saronno (Milano), Italy to concentrate on exhibiting in Europe and to write; returning to New York in 2001, he published Lavender, Magic and Smiles, a chapbook of poetry.
Originally from Nottingham, England, Robin Hill has made a name for himself among the mid-century modern architecture of Miami, his home since 1992. His striking photographs examine the interplay of shadow and light, lines and angles, buildings and their natural settings. Active in preservation of the iconic MiMo style for which Miami is known, and a sought-after lecturer, Hill brings his passion for architecture to the photography he creates. His work has been featured in countless gallery exhibits (most recently the Guggenheim in New York), books and magazine covers. Robin Hill is also a contributing photographer at TROPIC Magazine, Florida Travel & Life and LUXE magazines.