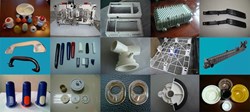 (PRWEB) October 02, 2013
Blow molding is a manufacturing process for forming hollow industrial parts and containers out of thermoplastic materials. Recently, Wuxi Glory Plastics, a leading plastic blow molding company, has announced its custom plastic blow molding service with discounts. The special offer is launched to make more people know their high quality services.
According to the CEO of Wuxi Glory Plastics, blow molding is a manufacturing process by which hollow plastic parts are formed. The injection blow molding from Wuxi Glory Plastics is specially used to achieve very accurate wall thickness, high-quality neck finish, and to process polymers.
"We are a fast-growing company in the molding industry. We are interested in all aspects of blow molding including machinery, auxiliary equipment, polymer properties, tooling, processing and fabricated part testing. Now, custom blow molding is available here in limited color options and quantities at an exceptional value," adds, the CEO.
With its premium customer service and fast delivery, Wuxi Glory Plastics allows anyone to purchase its designs and services with confidence. The company is offering premium-quality plastic closures, plastic auto parts, EIFS washers, Silicone rubber parts and more for the customers worldwide.
About Wuxi Glory Plastics
Wuxi Glory Plastics is a full-service molding company serving its clients worldwide. The company was established in 1995. It has become one of the leading suppliers in the plastic industry in China. The core services offered by the company include blow molding and injection molding. Its goal is to widely spread technical information relevant to the blow molding industry to the technical societies associated with the plastics industry.
For more details about their products and services, please visit: http://www.plastics-molding.com