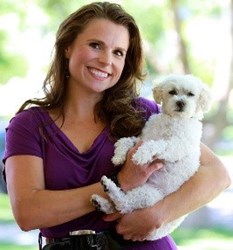 The Canyon County Shelter is a terrific "no Kill" organization. I am pleased we were able to play a role in helping to find homes for all of these wonderful dogs and cats in need of a loving family
Boise, Idaho (PRWEB) October 02, 2013
Karen Bostick, creator and CEO of and PetsPage.com was excited to learn that the Canyon County, Idaho Animal Shelter won $25,000 from the 2013 $100,000 Rachael Ray Challenge by winning the "Community Engagement Award" for using social media to find homes for more pets. Bostick and PetsPage assisted the Shelter during the contest by promoting the shelter's adoptable pets through PetsPage.com – a social pet community and her extensive social media network. The shelter also won an additional $10,000 for finding homes for 1,868 animals during the three-month challenge.
Bostick and her PetsPage team promoted Canyon County Shelter pets at "Social Pet SuperStars" in need of adoption during the month of August for the $100,000 Challenge through "Find-A-Pet" listings in "Tinks Listings" on PetsPage.com and also sharing the adorable pets in daily posts on her vast social media network of 175k+ pet loving fans on her Facebook pages Karen Bostick & Tinks, We Love Tinks, and MyPetAdvocate.org and her Twitter and Instagram.
To facilitate national pet adoptions from the Canyon County Shelter, Bostick also sought to connect pet lovers from around the country with non-profit truck driver and transport organizations like Operation Roger and other pet transport companies. Bostick offered to donate $50 to Operation Roger for every Canyon County pet that gets a transport application throughout the month of August.
The "No Kill" Canyon County Animal Shelter was one of 50 contestants nationwide participating in the contest to save more animals - during the months of June, July and August 2013 - than they did over the same three-month period in 2012. The contest is co-sponsored by national television personality Rachael Ray and the ASPCA® (The American Society for the Prevention of Cruelty to Animals®).
In a special ceremony on Monday to present the $35,000 check, Tami McReynolds of the ASPCA said, "I've named you the little engine that could because nationally speaking, this is a large shelter for Idaho, but nationally, it's not large. You have just knocked the socks off of lots and lots of animal shelters."
Canyon County Executive Director Barb Hutchinson told Boise, Idaho's KBOI 2 News it's been a difficult summer financially and the prize money will be a great help.
"I am so excited to hear that the Canyon County Animal Shelter received a $35,000 award from the $100,000 Rachael Ray Challenge. The Canyon County Shelter is a terrific "no Kill" organization. I am pleased we were able to play a role in helping to find homes for all of these wonderful dogs and cats in need of a loving family, said Bostick.
About PetsPage
PetsPage.com is a brand new social pet community that its Founder and CEO, Karen Bostick calls, "A Place for the Social Pet." PetsPage.com has a primary mission of increasing pet owner awareness of veterinary specialty medicine, which can quite literally save pets' lives through advanced veterinary care by creating an engaging social pet community platform to connect pet lovers with each other as well as pet professionals and pet products in a fun, friendly and interactive way. "I've really had fun creating new ways to incorporate more social features to attract pet owners to this important information," said Bostick.
Tinks' Story and Karen's mission has struck a chord with pet lovers around the world. During the development process of PetsPage.com, Bostick created several Facebook pages to share Tinks' Story and his adventures. The response has been overwhelming to say the least. Social media users and pet lovers all over the world not only embraced Tinks, they fell in love with him. Tinks has become a Social Pet SuperStar with Karen's vast social media network with over 175,000 + likes and growing. Twitter, and Instagram fans by the 1000's are falling for Karen and Tinks too and are quickly joining PetsPage.com.
PetsPage.com is based in Boise, Idaho.