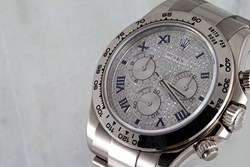 Los Angeles, CA (PRWEB) October 04, 2013
The timepiece experts at Time and Gems are pleased to unveil the latest additions to their Rolex collection that is to be put on sale in conjunction with fall.
Rolex boasts a large selection of Rolex watches. From classic vintage pieces to brand new models, Rolex is definitely one of the best timepiece brands around. Not only do they cater to specific niche markets such as scientists and divers, they also offer watches that are incomparable in style and engineering quality.
Time and Gems wishes to unveil the most popular pre-used Rolex watch models for men and women, many of which come from the top most popular collections created by Rolex.
1. Rolex Submariner
One of the reasons why Rolex watches from this collection are so popular is because not only is this watch stylish, it also has numerous impeccable functions. Similar to having beauty with brains, models from the Rolex Submariner are highly water resistant and boast Rolex's signature sleek designs. Known as the ultimate diver's watch, the Rolex Submariner is the bridge between man and the underwater world. Introduced in 1953 during the pioneering years of scuba diving, the Rolex Submariner was a welcome addition to the world of Rolex and models from this collection have been top sellers ever since. Time and Gems is pleased to introduce several new pre-used Rolex models into their Rolex Submariner collection.
2. Rolex Day-Date
According to Rolex, the Rolex Day-Date encompasses the very essence of luxury and considering how popular this collection is, many the world over can understand exactly why. Ever since it was launched in 1956, the Rolex Day-Date has been an outstanding addition to the glamorous world of luxury timepieces. As the first watch to display both the day and the date, the Rolex Day-Date is a must-have accessory in any fashionable man and woman's wardrobe. Time and Gems is proud to announce that they will be introducing pre-owned Rolex Day-Date models for sale to their buyers.
3. Rolex Deepsea
This new generation watch was made for divers. With a water resistance level of up to 12,800 feet, few luxury watches come close to meeting the demands of professional divers the world over. This reliable piece of engineering was introduced in 2008 and till today, continues to be a hit amongst collectors and dive aficionados. Time and Gems will be adding several pre-used Rolex models from this collection to boost the variety of Rolex watches to be put on sale in fall.
As a sneak peek into what is to come, one of the watches on sale at Time and Gems is from the Datejust collection. It is the Ladies' Rolex Two-Tone Silver Arabic Dial Fluted Bezel Oyster Band Datejust (Item #1375)
Price: $3,745
(Bank Wire Price : $3,370)
This leaves the buyer a total savings of $375 if they opt to pay via bank wire.
For more information on all other pre-used Rolex watches on sale, contact Time and Gems at 1-888-658-5595 or head to their website.