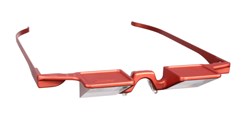 Neck pain resulting from overuse of tablets, smartphone and e-readers has become a worldwide public health issue.
Portland, OR (PRWEB) October 03, 2013
i90 Tablet Glasses promise to literally change the way you look at your tablet computer. The patent-pending design enables wearers to use their tablets, smartphones and e-readers, without the uncomfortable, head-forward posture we all seem to experience when using our gadgets. According to the developer of the i90 Glasses, Matt Franklin, "After hours spent using my iPad left me with a sore neck and back, I came up with the idea of combining a periscope with eyeglasses, so I could keep my head up while I was actually looking down at my iPad."
After several rounds of prototyping and testing, Mr. Franklin has launched a Kickstarter campaign to raise the capital to bring i90 Tablet Glasses to market. "After my first product, PostureNOW, was featured on Shark Tank," stated Franklin, "I thought crowd-funding would be a great way to not only publicize this new product, but also to test the demand before going into full-scale manufacturing."
i90 Tablet Glasses are made of aluminum and come in eight colors. The prisms refract the wearer's line of sight 90 degrees downward, enabling a head's up, comfortable posture while using tablets and e-readers.
Head-forward posture associated with gaming, reading, and watching videos on personal electronic devices has become a public health crisis, especially among young people. Hours spent with one's head forward, looking down at a tablet computer, can lead to pain and long-term spinal injury. "Look anywhere these days and you'll see people with their heads down, staring into a mobile device or tablet," said Franklin. "Head-down posture, or 'tech-neck' as it's being called these days, is an epidemic, and that's why I think every tablet and e-reader should come bundled with a pair of i90 Tablet Glasses."
The Kickstarter campaign lasts until November 15th and the funding goal is set at $45,000. To follow the project, visit http://kck.st/16evXJb.