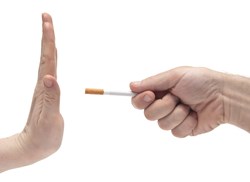 Following the success of last year's campaign with over 160,000 people quitting for Stoptober, it is exciting to see the return to encourage even more people to stop smoking.
London (PRWEB UK) 2 October 2013
Last year, in September, the Public Health England (PHE) launched a mass campaign to get the nation's smokers to quit smoking for 28 days. This initiative saw 160,000 people successfully take on the challenge in 2012. Now, on October 1st, 2013 thousands of people across the country begin Stoptober once again, as the latest data shows that the incidence of lung cancer continues to increase amongst women, whilst dropping for men.
Over 8 million people in England smoke and it remains the nation's biggest killer, with half of long-term smokers dying prematurely from a smoking-related disease. The research highlights an increasing focus on the impact that smoking is having on the health of women and young girls in the UK. Smoking is one of the main causes of lung cancer, and survival rates are very poor. Less than a third (30%) of people diagnosed with lung cancer will survive the first year, and only 8% will still be living 5 years later. 1
Kevin Fenton, Director of Health and Wellbeing for Public Health England, has stated, "Whilst smoking prevalence across the country as a whole is falling steadily, it remains high in some parts and is still the biggest cause of premature death with more than 80,000 deaths in England every year. We are seeing worrying levels of smoking among women which is clearly having an impact on their health and reported cases of lung cancer." 2
The Stoptober campaign is based on a 2008 study [by R West and J Stapleton] that says people who can go without a cigarette for 28 days are five times more likely to kick the habit permanently. That is why it is important that people give Stoptober a go, and we would encourage all smokers to join the thousands of others taking part, and help dramatically improve their long and short term health. Along with the health benefits, stopping will save the average smoker over £150 a month and almost £2,000 a year. During last year's Stoptober campaign, a staggering £25 million was saved by the 160,000 people from not buying cigarettes. 3
Sheila Mitchell, Public Health England's marketing director, said: "Following the success of last year's campaign with over 160,000 people quitting for Stoptober, it is exciting to see the return to encourage even more people to stop smoking. There is clearly an appetite among smokers to stop together and benefit from the group support that comes from the mass-quit attempt. We're doing more across the board this year to promote the wide range of stop smoking tools available through Stoptober." 4
References
1. http://mancunianmatters.co.uk/content/011012726-stoptober-campaign-urges-smokers-stub-it-out-after-manchester-named-uks-smoking-de
2. https://www.gov.uk/government/news/up-to-7-days-life-gained-for-every-28-you-remain-smokefree
3. https://www.gov.uk/government/news/lung-cancer-rates-rising-amongst-women-yet-falling-in-men
4. http://www.campaignlive.co.uk/news/1210876/