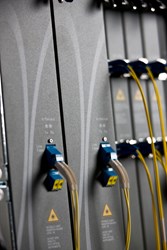 In essence, what we've built is the world's first programmable distributed forwarding fabric for cloud compute
Dublin, Ireland (PRWEB) October 02, 2013
Intune Networks has shown how its unique distributed switch, coupled with software defined virtual switches, can create a radically simplified cloud infrastructure.
The proof-of-concept demonstration includes the set-up, tear-down and migration of multiple virtual machines across locations many kilometres apart. The IT orchestration is performed by the Open Stack software suite, with conventional Top-of-Rack switches replaced by virtual software defined Open vSwitches. It shows how large enterprises could simplify the delivery of applications such as virtual desktop - at far lower costs, with higher performance and with better security than over conventional networks.
This demonstration builds on a recent announcement showing the migration of VM's across Intune's distributed fabric under the control of VMware's software suite, which can operate simultaneously across Intune's fabric alongside the open switching and control systems used in this demonstration.
John Dunne, Intune's CTO, explained, 'Intune's system is essentially a distributed programmable forwarding fabric. It creates a single pool of connectivity that any traffic flow can use, in this case an open virtual switch that requires an instantly available path to a distant location.'
The virtual machines and their users can be located at sites spread anywhere over a 500km circumference.
OpenStack and Open vSwitch have been welcomed by both users and vendors across the IT industry because they provide open platforms for the innovation of next generation services and systems. Intune's system allows the virtual switches to be separated by hundreds of miles, yet still to be connected to the same switching fabric, as though they were all in the same location. This hugely simplifies the IT orchestration layer required by large organisations such as global banks.
John Dunne, Intune's CTO, added, 'In essence, what we've built is the world's first programmable distributed forwarding fabric for cloud compute. So now, as well as virtualising the compute and storage, we've virtualised the network connectivity as well.'
Intune's distributed switching systems have already been deployed by Tier-1 operators building the next generation of cloud networks and services, and are in trials with several global banks, who need to securely and dynamically connect to their private cloud infrastructures.
About Open vSwitch
Open vSwitch is a production quality, multilayer virtual switch licensed under the open source Apache 2.0 license. It is designed to enable massive network automation through programmatic extension, while still supporting standard management interfaces and protocols (e.g. NetFlow, sFlow, SPAN, RSPAN, CLI, LACP, 802.1ag).
Open vSwitch also supports OpenFlow as a method of exporting remote access to control traffic.