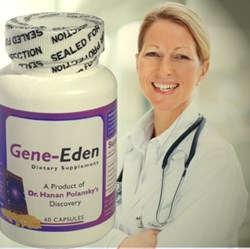 Plantar warts can be pretty painful. People should use Gene-Eden-VIR to help the immune system target the latent HPV that underlies a plantar wart infection. - Mike Evans, polyDNA
Rochester, NY (PRWEB) October 05, 2013
A new study says that most treatments don't work for plantar warts (1). The most common treatments are liquid-nitrogen cryotherapy or topical salicylic acid application (1). Because of "limited effectiveness, side-effects and costs of treatments, some physicians promote a wait-and-see policy (1)."
Plantar warts that are difficult to treat are normally caused by HPV types 2, 27, and 57. These strains can cause "a persistent wart, which in most cases is resistant to treatment (1)."
According to the Mayo Clinic, in a page last updated on May 3, 2011, plantar warts are formed by the HPV virus "in the outer layer of skin on the sole of your feet. There are more than 100 types of HPV, but only a few types are known to cause warts on your feet. Other types of HPV are more likely to cause warts on other areas of your skin or on mucous membranes (2)."
polyDNA would like to propose a dietary supplement, called Gene-Eden-VIR, to people suffering from plantar warts. Gene-Eden-VIR has been proven to reduce symptoms during an HPV infection. In fact, a new clinical study has provided evidence for the safety and effectiveness of this natural product (3). The study was published in the peer reviewed, medical journal Pharmacology & Pharmacy, in a special edition on Advances in Antiviral Drugs.
In that study, Gene-Eden-VIR was shown to reduce HPV symptoms in individuals already infected with HPV. Study authors wrote that, "individuals infected with the HPV, … reported a safe decrease in their symptoms following treatment with Gene-Eden-VIR (3)." The study authors also wrote that "We observed a statistically significant decrease in the severity, duration, and frequency of symptoms (3)."
Mike Evans of polyDNA said, "Plantar warts can be pretty painful. Because Gene-Eden-VIR was proven to reduce HPV symptoms safely and effectively in a clinical study, people should use this natural antiviral to help the immune system target the latent HPV that underlies a plantar wart infection."
To learn more about Gene-Eden-VIR, visit http://www.gene-eden-kill-virus.com. All orders of Gene-Eden-VIR are completely confidential, and no information is shared or sold to any third party. Privacy is assured.
###
References:
(1) http://www.ncbi.nlm.nih.gov/pubmed/23518443
(2) http://www.mayoclinic.com/health/plantar-warts/DS00509/DSECTION=causes
(3) http://www.scirp.org/journal/PaperInformation.aspx?PaperID=36101
polyDNA is a biotechnology company that develops dietary supplements using the unique scientific method developed by Dr. Hanan Polansky, which is based on Computer Intuition.
In addition to his unique scientific method, Dr. Polansky published the highly acclaimed scientific discovery, called Microcompetition with Foreign DNA. The discovery explains how foreign DNA fragments, and specifically, DNA of latent viruses, cause most major diseases.
polyDNA developed Gene-Eden-VIR, an antiviral natural remedy that helps the immune system kill latent viruses.