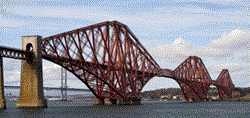 This legislation takes us back to Victorian times in terms of health and safety legislation.
Scotland (PRWEB UK) 7 October 2013
On Tuesday 1st October 2013, provisions in the Enterprise and Regulatory Reform Act come into force across Scotland. Section 69 of the Act amends section 47 of the Health and Safety at Work Act 1974, which attaches civil liability to breaches of health and safety in personal injury cases.
Section 69 removes that protection and regresses health and safety law in Scotland to the point that those engaged in building the new Queensferry Crossing, the third bridge over the River Forth between Edinburgh and Fife in central Scotland, will, from Tuesday 1st October, be doing so with no greater protection in civil law than those who built the original Forth Rail Bridge, completed in December 1889, at a cost of 98 lives.
Personal injury lawyers Digby Brown believe this change will have adverse and unjust consequences, both for individuals seeking to access justice and compensation for injury suffered as a result of an accident at work that was not their fault, and health and safety standards across Scotland.
Digby Brown anticipate that claims which are currently fairly straightforward will become more complex. An example could be an accident involving a defective piece of machinery. Prior to this legislative change, the employer was responsible for ensuring their staff had a safe environment in which to operate and would have been liable for the defective equipment. Now, the case will likely result in complex and prolonged arguments around the employers' level of knowledge of the state of the equipment and what would or would not have been reasonable action for them to take relative to this.
Top personal injury lawyers Digby Brown believe that this new provision will almost certainly discourage some of those injured from doing so as many of the cases will take longer and cost considerably more to resolve.
That robust regulation raises standards and prevents incidents is borne out by key Health and Safety Executive statistics. In 1991/92 there were 368 fatal accidents in UK workplaces. By 2011/12 that figure had fallen to 173. The number of major injuries at work has fallen by 20 per cent since the mid-1990s, while the number of injuries which led to a three-or-more-day absence from work have fallen by more than 30 per cent.
Workplace accidents specialists Digby Brown regard this legislative change as a regressive one, which will result in the State requiring to look after those injured workers who ought to be relying on their employers to meet the highest health and safety standards. Instead, it will benefit only insurance companies representing employers and those unscrupulous enough to fail to adhere to their duty to keep those employed by them safe.
Fraser Oliver, Digby Brown Chief Executive, said
"The last 100 years have seen steady progress in improving workplace health and safety standards and making employers aware of their responsibilities for the safety of their staff. This legislation takes us back to Victorian times in terms of health and safety legislation.
Everyone is entitled to go to work, have their safety protected, and go home at the end of the day. Individuals injured at work through no fault of their own, will, as of 1st October, find it significantly harder to obtain fair and appropriate compensation for injuries or loss.
Every year, thousands of Scots report personal injuries which keep them off work for several days. Only a very small minority of these are ever dealt with by the criminal justice system. It is through pursuing civil claims for compensation that employees can obtain justice and redress and employers be held to account.
Making it harder to bring these types of claims sends entirely the wrong signal to employers about their responsibility to create a safe workplace for everyone in their charge."
http://www.youtube.com/watch?feature=player_detailpage&v=m9hChFklYfE
About Digby Brown
Digby Brown Solicitors represent thousands of individuals in workplace accident claims in Scotland every year. The firm are sole legal service providers to the GMB (Scotland) Trades Union and have worked with Trades Unions officials and members for many years to improve workplace health and safety standards.