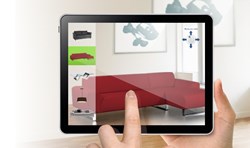 With a proven track record in enhancing e-commerce solution, TryLive Home boosts the efficiency and results of on-line furniture retail.
(PRWEB) October 03, 2013
TryLive Home enables in-situ viewing of true to scale furniture, electronic goods, domestic appliances or any household equipment. Total Immersion changes the rules and brings this virtual try on experience to the heart of the shopping experience.
Didier Lesteven, CEO of Total Immersion: "We can now break the frontier between shop and online retail. This innovation brings the shop directly to your house, and allows you to decorate an entire setting, to move furniture around, to change options, to compare and to share photo with friends, which is not possible in real life. Our customers have noticed a strong impact on deal conversion, visitor engagement, loyalty, and a reduction in the return rate."
TryLive Home: An engaging and fun shopping experience.
TryLive Home key exclusive features:

Split the screen to compare up to four different settings. The ideal tool to find the right texture, color and see if items suits and fits into surroundings.
Virtual Eraser: digitally remove an old sofa on a still image and replace with a new one.
Pause mode: freeze the live mode. Work on a static view to organize the space. Once ready, resume the TryLive augmentation of the room and admire the result.
Top View: switch to a top view of the room for easier furniture placement, and then go back to a natural perspective to appreciate the results.
True to scale dimensions are checked with a 99 percent + accuracy.
Share TryLive decor with friends and get their feedback.
TryLive Home is a turnkey solution. Easy to integrate, deploy and maintain through the Cloud.
A Solution available for Mobile, Tablet (iOS and Android) and Web.
TryLive Home is available for E-commerce retailers and digital agencies starting from September 2013. Full details and online demo is available at trylive.com.
About Total Immersion
More than 500 clients and 10 million consumers all around the world have experienced Total Immersion's solutions delivered in industries such as digital marketing, retail, consumer goods, e-commerce and entertainment. The company maintains offices in Europe, North America and Asia and supports a partner network with more than 120 solution providers worldwide.
Contact Total Immersion:
Julie Kumec / Service Marketing / julie.kumec(at)t-immersion(dot)com