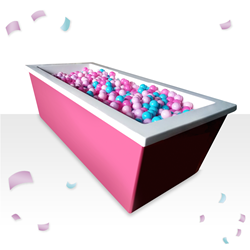 (PRWEB UK) 3 October 2013
1 in 8 of us will be diagnosed with breast cancer during our lifetime – so for the whole of October Better Bathrooms have organised a special in-store and online competition. In each showroom, there is a pink painted bathtub filled with balls; customers simply have to guess how many balls are in the bath. To help entice people to get involved and raise even more money the person who guesses correctly/closest wins £500 to spend at Better Bathrooms.
In addition to the in-store promotion, the public can donate via our Just Giving Page: http://www.justgiving.com/better-bathrooms-charity, where there is an image of our special bath allowing people to donate and enter the competition.
The staff at Betterbathrooms.com are also getting involved as there will be a special internal raffle where they could win a paid day off work. Colin Stevens, the founder and MD, has also generously agreed to match all the money raised internally. Colin added: "This is a fantastic charity and we are proud to support it. For Breast Cancer Awareness Month we wanted to do something that was fun and would raise a lot of money – we had a few spare baths to hand so painting them bright pink was the perfect idea!"
Breast cancer is now the most common cancer among women in the UK. Every year nearly 55,000 people are diagnosed in the UK. That's the equivalent of 150 people every day or one person every 10 minutes. Breast Cancer Care is there for every one of them, providing expert information and professional support when it's needed most. Visit http://www.breastcancercare.org.uk or call our free helpline on 0808 800 600 for more information.
To donate money please go to http://www.justgiving.com/better-bathrooms-charity.
Tell us if you've donated money #BBCare / http://www.facebook.com/betterbathrooms.