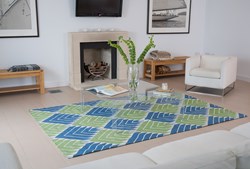 A winning combination of five-star holiday accommodation and stylish soft funishings.
Seaview, Isle of Wight (PRWEB UK) 17 December 2013
Based in London and Oxfordshire, Mahout Lifestyle source some of the most innovative and stylish designs in soft furnishings to come out of the Indian subcontinent. Supplying the finest quality hand crafted rugs or 'dhurries' which range from vibrantly colourful to sophisticated and subtle in design, these rugs and quilts add a touch of class to any home.
Delicately and meticulously woven in various hand spun fibres such as cotton, silk and wool, the skill has been passed down through generations to create the masterpieces we see today. Mahout will even order a bespoke design for you if so desired to adorn that special place in your home.
In association with Wight Locations, the only Island based self-catering holiday lettings' company on the Isle of Wight, Ben Wood, has been commissioned to showcase these rugs in the latest property to join to their ever expanding portfolio, the stunning Beach House in Seaview. Established over 8 years ago in Seaview, Wight Locations is the only holiday company to specialise in properties across the Isle of Wight and being Island based, the team, with all the personal knowledge and experience of life on this diverse and bountiful Island, have the inside track to best advise any holidaymaker contemplating a trip to our shores.
Ben has years of photographic expertise and since relocating to the Island over 10 years ago has enjoyed a diverse career involving some amazing projects such as J class yachts on the Solent and Horse racing in France. Renowned in his field, Ben now takes on the role of photographic ambassador for Wight Locations and will be increasingly enlisted to portray the best that their properties have to offer as more and more unique and individual properties sign up.
Ben chose the very contemporary Beach House for his shoot as its' subtle simplicity and minimalistic class ideally compliments and highlights the rugs exquisitely tasteful colours and designs. As the name suggests, this beach front property, located in the prestigious and desirable Seagrove Bay, offers exceptional accommodation for the discerning holidaymaker. Being set over four floors with beautiful sea views from almost every room and a garden leading down to the beach, this light and spacious modern property is suitable all year round.