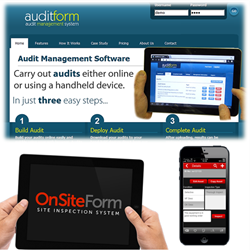 Auditform users have reported data collection productivity and management reporting improvements up to 40% compared with traditional manual methods.
(PRWEB UK) 4 October 2013
In 2012, a British company called Formability introduced an "app" version of Auditform on the Apple, Google Android, Blackberry and Amazon app store sites. Following on Auditform's heels in 2013 is OnSiteForm, a lifting inspection application. Both offerings are now being adopted in fully featured versions by a variety of end users in Europe and North America.
Auditform
Auditform is a cloud solution for managing audits of process critical practices for instance in food processing or health and safety in manufacturing or distribution operations. Auditform allows organisations to efficiently build and manage audits over the internet using PCs, laptops, tablet devices of smart phones.
Audits are conducted on operational sites using the preferred mobile device of choice to suit individual preference. In real time, the application will track non-compliant issues and give management, detailed data that will enable them to achieve a demonstrable reduction in operational risk factors.
Auditform allows information to be gathered from remote locations and is scalable across multi-site operations. Auditform users find they have a very short learning curve as a result of the system's simplicity in use. Users can create and deploy audits right from the first day of use, creating their own audit questionnaire forms following a straightforward, build, execute and record methodology.
In addition, Auditform users have reported data collection productivity and management reporting improvements up to 40% compared with traditional manual methods.
OnSiteForm
OnSiteForm is a cloud based asset control system which conveniently records and controls the management of PUWER & LOLER testing, lifting tackle inspections and other workplace examinations as well.
OnSiteForm is a complete inspection solution for use on a wide variety of mobile devices. There is no speciality software or database which requires setting up. It comes with a site asset register and can produce a fully auditable and searchable certificate history that both inspectors and customers can interrogate over the web. The software is simple to use and gives users a thorough understanding of the serviceability of their lifting equipment on the job site. Detailed audit trail functions are available and access to records on site is accurate and fast.
A wide array of extremely powerful features is provided in the OnSiteForm asset management system including:

the ability to see the historical inspection record for all single items of lifting gear including the time and date of inspection and the inspector's name
use of Android and iOS operating system mobile devices to simply record inspection results on iPhones, iPads as well as Android "smart" phones and tablet PCs
live real time working using a 3G or 4G connection or remote jobsite working with no internet link up following which system users synchronise their data online later
About Formability
Formability is a quality provider of web based desktop PC and mobile applications which facilitate operational processes such as data collection, inspections and audits.
From its base in the central UK near Manchester, Formability's dedicated team of developers create internet application solutions for a variety of customers in different both in the UK and abroad.
For further information, please contact Paul Beck, Managing Director on +44 (0)161 447 8845 or e mail paul.beck(at)formability(dot)co(dot)uk.
Formability Limited
Europa House
Barcroft Street
Bury, Lancashire
BL9 5BT
+44 (0) 161 447 8845