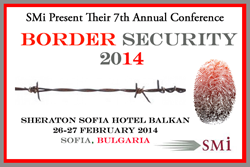 "The presentations were excellent, a lot of valuable information. It was very interesting to meet other attendees and talk about their areas of expertise." 2013 Event Attendee
Sofia, Bulgaria (PRWEB UK) 2 October 2013
SMi Group proudly presents its 7th annual Border Security Conference, taking place in London, on the 12th-13th of February 2014. Registration for the event is now open.
Returning to Bulgaria, SMi's Border Security 2014 Conference will feature discussion on current concerns in Eastern Europe and around the world. As a relatively new member of the European Union, Bulgaria faces geo-political challenges unlike many of its co-members. Along with Romania, it is also doing everything it can to be accepted in the Schengen Area. This necessitates effective border policing and this position as a border security hot spot makes it an ideal and intriguing venue.
What's new in 2014:

Host nation address from Chief Commissioner Penov, Chief Directorate of Border Police, Bulgaria
Hear about the case study from Haiti covering cross border criminal activity, and irregular migration
Brazil's strategy for protection of port security, and preparations for the upcoming Olympics and World Cup
Learn the new approaches of the Schengen border security evaluation mechanisms
Discuss the 21st Century Challenges of Border security for developing countries
Speaker Faculty – 2014 includes:

John Vine CBE QPM, Independent Chief Inspector of Borders and Immigration, UK
Police Brigadier General Gábor Kovács, EU Twinning Project, Hungarian National Police
Captain Pierre Wuillemin, Head of Identification and Biometrics from BGC, Swiss Federal Customs Administration FCA, Border Guard Cops, Switzerland
Adriano Baptista, Head of Operations Division, European Union Satellite Centre
Petrus Neacsu, Head of Telecommunications Unit within Directorate for the Implementation of Integrated System for Border Security, Romanian Border Police.
Peter Waldbauer-Hable, Senior Detective Chief Inspector, Bavarian Police and many others.
Plus, visit 2 interactive half-day conference workshops:

Inter Agency Intelligence Sharing, by Neil J Hall AFNI MIACP, Assistant Commissioner of Police (Retd)
Stabilisation Operations in Fragile States, by Malcom Kell, Stabilisation Advisor, UK Government's Stabilisation Unit
For more information about this event and how to register, contact James Hitchen - jhitchen(at)smi-online(dot)co.uk, +44(0) 207 827 6054 or Cem Tuna - ctuna(at)smi-online(dot)co.uk, +44(0) 207 827 6736.
For sponsorship opportunities contact Sadia Malick, Director, via smalick(at)smi-online(dot)co.uk or call +44(0) 207 827 6748.
Event's website: http://www.smi-online.co.uk/2014eandp22.asp
Contact for media-partners: Julia Rotar, jrotar(at)smi-online(dot)co.uk, +44 (0) 20 7827 6088.
About SMi Group
Established since 1993, the SMi Group is a global event-production company that specializes in Business-to-Business Conferences, Workshops, Masterclasses and online Communities. We create and deliver events in the Defence, Security, Energy, Utilities, Finance and Pharmaceutical industries.
We pride ourselves on having access to the world's most forward thinking opinion leaders and visionaries, allowing us to bring our communities together to Learn, Engage, Share and Network. We hold events in over 30 major cities throughout the world including London, Paris and Singapore and to date have welcomed over 200,000 participants from 80 countries.
For more information, please visit http://www.smi-online.co.uk.