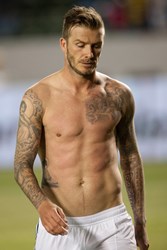 David's vision involves a chain of pie and mash cafes. He's thinking something like Nando's, but with pies instead of chicken.
London, UK (PRWEB UK) 3 October 2013
It was reported in Closer Magazine (29 September) that David Beckham has pulled out of his plans to be a partner in Gordon Ramsey's new London restaurant. RIFT Research advises Beckham to make the most of R&D tax relief for recipe and product development, and move forward with plans to launch a new chain of pie and mash eateries.
Sources say that Ramsay has a concept of an upmarket Mediterranean restaurant, while Beckham favours a chain of pie and mash cafes. Beckham visited the new London site in July, but relations are now strained as the partnership for Ramsay's Union Street restaurant hangs in the balance.
Closer magazine reports an 'insider' as saying: "David's vision involves him opening a chain of pie and mash cafes. He's thinking something like Nando's, but with pies instead of chicken."
RIFT Research has a number of clients who are keen to know if menu development, or new restaurant concepts are eligible for the government's R&D tax credits. Sue Nelson, Director says: "If Beckham was to open a new chain of cafes, market research and menu development is unlikely to be eligible. However, if he invested in developing new equipment to bake pies in a revolutionary way, or new science to keep them warm or develop a pastry that contained new ingredients never before used in a pie, that may well gain tax relief."
If Beckham is planning a future in food, it is worth considering the R&D tax relief available for recipe or process development. As Sue Nelson says: "Government figures report that of all the claims made for R&D last year, 7% were from retail, hotels and restaurants and only 4% from construction and rail. It just shows that this sector is innovating as much, if not more, than other industries."
Even though Beckham's plans for pie and mash dominance are far from being realised, RIFT Research and Development recommends that companies currently undertaking any product or service development in the food sector, should contact one of their tax specialists to receive the full benefit from the R&D tax relief scheme.
About RIFT
Founded in 1999, The RIFT Group is one of the UK's leading tax refund specialists and has claimed back over £16 million in tax refunds for their clients this year (but not any for pie development yet). To find out more about the R&D tax relief scheme, contact 01233 653002 or email info(at)riftresearch(dot)com for a free telephone consultation.