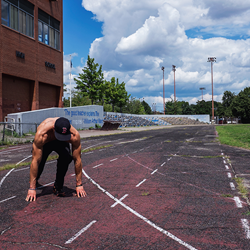 Fabio and Stan set an inspiring example of what AAPT graduates are able to accomplish after taking the time to invest in their education.
(PRWEB) October 02, 2013
Fabio Lopes, a December 2012 AAPT NYC graduate, has taken his own dreams and is paying them forward to his clients. Originally from Brazil, Fabio moved to New York City and worked hard attaining his AAPT education in order to start a career that he loved. "I learned everything I needed to know to be a successful, confident personal trainer," says Fabio, "and what's more, I learned that I could have a positive impact on people's lives—this alone is what drives me every day." In both his work as a trainer and in his own fitness endeavors, Fabio is passionate about pushing the limits in order to reach one's goals. His most recent personal achievement: completing the extreme 8-mile/20-obstacle Super Spartan Race in September, where he raced against 433 participants and finished 26th in his age category.
Reflecting on the principles that have contributed to his success, Fabio's advice to others is, "(1) Take risks. If you want it, go for it! (2) With hard work, you will succeed. (3) Always continue learning—from your mentors and from new courses. This is what will help you stay on top."
Stan Dutton, a December 2011 AAPT Boston graduate, has used his education to drive his fitness career rapidly forward over the past two years. Since he can remember, Stan has been involved in sports and fitness, and by age 13, he was already learning how to coach and motivate others. But after graduating from AAPT, Stan felt ready to put his foot on the pedal and take off. "I walked out of AAPT confident in my abilities as a trainer, and I knew that I could change lives—the right way!" After a year and a half working as a trainer at a Boston-area health club, Stan was ready for his next leap: business ownership.
Today, Stan is the co-owner of Training for Warriors Boston, which kicked off its inaugural "Park Jam" on the Boston Common this past month. Stan and his team employ a unique training approach that combines strength training, metabolic conditioning, NFL-level sprinting analysis, and, in Stan's words, "the kind of coaching that we all deserve."
Fabio and Stan set an inspiring example of what AAPT graduates are able to accomplish after taking the time to invest in their education. If interested in acquiring more information, AAPT has full service admissions teams in both New York City and Boston.
Headquartered in NYC with a branch in Boston, AAPT is a nationally-accredited occupational school renowned for its innovative hands-on approach to personal training education. AAPT's intensive 300-hour curriculum combines equal parts classroom lecture and laboratory instruction, covering subjects including exercise science, customized programming, injury prevention and business planning. AAPT proudly offers federal financial aid.