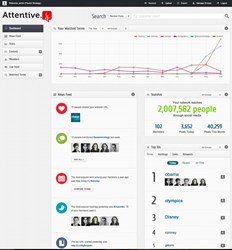 By using Attentive.ly for targeting, nonprofits can see 3x-9x their typical response rates today -- and improved deliverability for their entire list in the long term.
Washington, D.C. (PRWEB) October 09, 2013
Salsa Labs, Inc. (Salsa), creator of the nonprofit platform to grow and engage a base of online support, today announced a new Social CRM product package that integrates the social media analysis of Attentive.ly directly with the Salsa platform. The move offers an innovative way for nonprofits to measure the impact of their supporters in the social media space and reconcile the data seamlessly within Salsa.
"Social CRM allows users to easily evaluate the impact of their supporters in social media and translate that back to their database for future use," said Christine Schaefer, Vice President of Community and Marketing for Salsa. "With the Social CRM options, users can then target and segment their audiences for more personalized communication and hopefully, more quality, long-lasting supporter relationships."
Attentive.ly imports an organization's supporter email list from Salsa to match public profiles on Twitter, Facebook, LinkedIn, and 105 other social networks. Attentive.ly also provides Klout score and basic demographic information (age, gender) on your list. To ensure privacy, only profiles that are public are matched and monitored. Once individuals are matched, their public posts begin showing up on the organization's Attentive.ly dashboard. Organizations then have access to statistics about top influencers, search features based on topics, reports with filters on location or specified parameters and more. That data may then be used to develop an online communications strategy and tactics within Salsa.
"With the recent crackdown of Gmail, Hotmail, and Yahoo on 'bulk mail', organizations must adapt to the new normal of personalized, highly targeted content -- or see their open rates decay over the next 5 years," said Roz Lemieux, CEO of Attentive.ly. "Salsa is ahead of the curve in providing customers with the kind of Big Data solutions that will protect the quality of their list and enhance the efficacy of their online campaigns. By using Attentive.ly for targeting, nonprofits can see 3x-9x their typical response rates today -- and improved deliverability for their entire list in the long term."
In addition to the implications for clients of list growth and improvement, they will also be able to rely on the customer support they come to expect from Salsa. Clients will be able to contact Salsa support directly for assistance with both Salsa and Attentive.ly accounts, with many issues addressed in-house.
Current Salsa clients can purchase the Social CRM package now by contacting their account manager.
Follow Salsa on Twitter or like them on Facebook.
About Attentive.ly
Attentive.ly offers the latest in "enterprise listening" technology to help maximize ROI on both email and social media. Attentive.ly lets you target just the right people based on interest and influence to dramatically increase response rates. It shows what your email list is saying on social media, who has Klout, and what topics are trending among supporters, donors, and volunteers. Attentive.ly was co-founded by Cheryl Contee and Roz Lemieux, inspired by their work with some of the country's largest nonprofits at Fission Strategy. For media information, contact Roz Lemieux, 202-640-1769 or roz(at)attentive(dot)ly.
About Salsa Labs
Salsa Labs (Salsa) helps nonprofits and political campaigns ignite action and fuel change around the world by growing and engaging a base of support online. With Salsa, groups of all sizes can easily organize their supporters and chapters, fundraise, advocate, communicate through email and social media, host events and measure results. Salsa provides more than technology; it offers strategic best practices, training, highly rated support and a strong online community, so its clients can focus their energy on their mission. The company currently empowers more than 2,000 organizations' and their more than 75 million donors, members, activists and fans across the globe. For media information, contact Leah Wilkinson, WilkinsonShein for Salsa, 703-907-0010 or leah(at)wilkinsonshein(dot)com. Visit Salsa online at http://www.SalsaLabs.com.