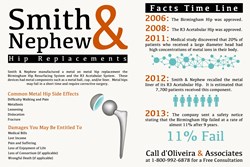 (PRWEB) October 14, 2013
Hip replacements are one of the most common surgeries in the United States. In fact more than 300,000 patients undergo this type of surgery every year (i). Additionally, these surgeries are becoming more common in younger patients. It is important for patients considering a hip replacement to make an informed choice. In recent years, metal on metal hips have flooded the market and consequently hip replacement lawsuits have increased. Smith & Nephew is now facing a number of these lawsuits. On July 18, 2013, Judge Joan Humphrey Lefkow of the United States District Court for the Northern District of Illinois rejected Smith & Nephew's motion to dismiss in the case of Tillman v. Smith & Nephew Inc. (Case No. 12 C 4977). The plaintiff, Stephen Tillman, alleges that he received the Birmingham Hip Resurfacing System in September 2007 but began experiencing pain from the implant in May 2010. A doctor then examined Mr. Tillman and found a clicking sound as well as a limited range of motion. Smith & Nephew moved to dismiss this lawsuit asserting that Mr. Tillman's claim was expressly preempted, impliedly preempted, and in the alternative was not sufficiently pleaded. Judge Joan Humphrey Lefkow rejected this motion as to all claims (ii).
The Northern Illinois Court's ruling comes only one month after Smith & Nephew issued an Urgent Field Safety Notice regarding the Birmingham Hip Resurfacing System. The letter stated that the average revision rate for the hip replacement "is currently 10.7% at 8.9 years in the National Joint Registry of England and Wales and 5.3% at 5 years in the Australian Orthopaedic Association's National Joint Replacement Registry." The company warned that the risks "may include pain and limited mobility, potentially leading to revision surgery."
The Smith & Nephew hip replacement infographic provides a timeline of regulatory action and medical studies addressing these implants. d'Oliveira & Associates has been following the latest developments regarding metal on metal hip replacements. The law firm works with some of the more experience Smith & Nephew lawyers and there is no legal fee unless a settlement or award is obtained. To contact the firm call toll-free at 1-800-992-6878 or submit a contact form online.
(i) Center for Disease Control and Prevention.
cdc.gov/nchs/data/nhds/4procedures/2010pro4_numberprocedureage.pdf
(ii) Tillman v. Smith & Nephew (Case No. 12 C 4977).
dockets.justia.com/docket/illinois/ilndce/1:2012cv04977/270770/
(iii)
bhmh.smith-nephew.com/downloads/FieldSafetyNotice.pdf