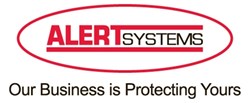 The presence of a CCTV security system can also offer reassurance to members of staff and customers on the business' premises in incidences such as robberies
(PRWEB UK) 4 October 2013
The Northwich Guardian reports on October 1 in the article titled 'Northwich Police Release CCTV Of Newsagent Attempted Robbery Suspects' that police have released the CCTV images of two men they wish to speak to in connection with an alleged attempted robbery.
According to the report, the incident occurred on September 17 at 10:27pm and CCTV footage has helped police to determine the course of events. From using CCTV police believe that an individual dressed in light grey coloured clothing demanded money from staff, whilst another individual wearing dark clothing stayed in the doorway. The individuals left the store with no money.
As experts in commercial security systems, AlertSystems recognise the importance of installing CCTV systems in businesses. A spokesperson for the company offered their comments:
"A robbery such as this can be frightening for members of staff and customers, and although no money is believed to have been taken in this incident, the presence of a CCTV security system can be vital for police. They can use the footage in their investigations to apprehend those responsible and prevent similar incidences from occurring, as well as determining the course of events. The presence of a CCTV security system can also offer reassurance to members of staff and customers on the business' premises in incidences such as robberies."
AlertSystems manage and maintain over 5000 security installations throughout the UK and are specialists in providing business security solutions. Offering professional service and a complete range of security services such as monitored alarm systems, Automatic Number Plate Recognition and Avigilon CCTV security systems. AlertSystems offers effective and reliable solutions to security problems.