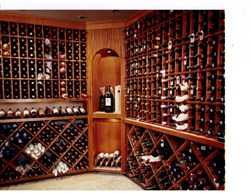 Our goal is to enhance the collecting experience of our customers by providing them the comfort of knowing that their wines are cared for correctly at home or at a NCV location.
Houston TX (PRWEB) October 03, 2013
"Downstream" does not apply only to the oil and gas business anymore. Nos Caves Inc., developer of the Nos Caves Vin (NCV) concept, announced a division that designs and builds custom wine storage features in homes and commercial facilities.
Experienced wine collectors turn to Nos Caves to store their wine outside their homes at either of the two NCV locations or to store their wines at home in a custom wine room - or both if necessary.
"We focus on the downstream sector because there are a lot of very talented people around the world making great wine – the upstream. There are a lot of very smart businesses selling wine to the consumers – the midstream. I have a wealth of experience designing and building award winning custom wine features so it made sense to add this service to our NCV services," said Jost Lunstroth, the creator of the Nos Caves Vin concept and CEO of Nos Caves Inc.
Lunstroth designed and built custom wine rooms throughout Texas before creating the NCV concept in 2010. One of his designs won a prestigious award for wine storage from Sub-Zero Wolfe in 2008. He designed and built the wine towers in the Perry's Steakhouse in Memorial City in Houston, the large curved wine wall at the Perry's in Austin and the wine wall in Perry's in Katy. His wine storage articles have also been published in numerous industry periodicals.
The first NCV opened in the Rice Village area of Houston in 2010 and the second location, in Memorial City, opened in early 2013.
A climate controlled wine room can be as small as a closet that holds a few hundred bottles to a very large room that holds thousands. It can use racks ranging from simple pre-made kits to custom installations using a variety of hardwoods or metals.
"One of my most fun projects was converting an existing closet in a garage in Houston into a climate controlled wine closet. We once converted an office in a high rise apartment into a gorgeous climate controlled wine room featuring custom walnut racking. One of my most beautiful spaces is in a true basement in West University. It holds over 3,000 bottles in custom racking made from tiger wood, a gorgeous wood normally used in yachts," said Lunstroth. "Wine rooms in Texas present a dual challenge – they have to be technically correct or there will be problems and the creative. The creative is the fun part."
Kate Bourne, General Manager, says "We design and build custom in-house climate controlled wine storage as well as analyze and repair defective existing wine rooms. We provide home owners, custom home builders, and restaurant owners a complete turn-key service for climate controlled wine storage."
Defective wine rooms are common as it is not a trivial project to build a climate controlled space that will stay at 55 degrees in the Texas heat. Problems resulting from an incorrectly built space can include mold and poorly performing refrigeration equipment.
"We bring the same team and experiences to the table when repairing defective wine rooms. We analyze and test the space in order to identify the issues before giving the homeowner a plan to fix the problem room. We stand behind wine rooms that we repair the same way that we stand behind the new wine rooms that we build," said Bourne.
NCV Custom Wine Rooms can create a wine room using traditional wood racks using a variety of hardwoods, or metal racks that use fabricated aluminum rods or something completely custom using metals, woods, glass or even plastic. We work with the individual homeowners to meet their design aesthetics and budget, while maintaining the highest technical quality standards for wine storage.
"Jost designed and built wine rooms in homes for us in the Memorial Area of Houston and are pleased that he will be working on custom wine rooms again. Jost and his team take a space and design custom refrigeration, insulation and racks that maximize the area and create a great space for our clients. They are able to work with clients and please even the most difficult with their results," said Bruce Beeler, PE, JD, BSEE, GMB, and President of Wexford Custom Homes of Texas.
Lunstroth states, "Our goal is to enhance the collecting experience of our customers by providing them the comfort of knowing that their wines are cared for correctly in their homes or at a NCV location."
For more information on NCV or NCV Custom Wine Rooms and how they can meet your wine collection needs, contact Kate Bourne, Nos Caves Vin, (713) 524-2554, kate(at)noscavesvin(dot)com.