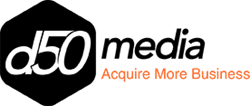 Wellesley, MA (PRWEB) October 02, 2013
d50 Media, a leading acquisition marketing agency, today announced the new hire of Andrew Clarke as associate director of client services. In addition, the agency has promoted Eric Lander to associate director of digital content. Eric was previously d50 Media's senior SEO manager.
In his role as Associate Director of Client Services, Andrew is responsible for leading the Client Services team. He also works across d50's disciplines to ensure the integrated campaigns developed by the agency exceed clients' goals. Before joining d50, Andrew was senior associate of strategic marketing at New York Life. In that position, he developed strategic programs designed to build awareness and generate leads for retirement plan products. Prior to New York Life, Andrew was senior manager, product marketing for Staples Advantage, where he directed cross-channel campaigns and product marketing initiatives.
Andrew earned his Bachelor of Science degree in Business Management from Green Mountain College in Poultney, Vermont.
In addition, d50 Media has promoted Eric Lander to associate director of digital content. In this position, Eric is responsible for driving content strategies and directing the creation of digital content. Eric also provides strategic oversight to ensure that content produced for d50's clients is positioned effectively with a strong focus on increasing sales, enhancing customer engagement and retention, supporting lead generation, and fostering positive customer behavior. Eric's Content Strategy team is comprised of the agency's SEO, Social Media, and Public Relations staff. Prior to d50, Eric was the president of online marketing services for eMagine Communications. In that role, he was responsible for the company's strategy and offerings for SEO, pay per click (PPC), social media marketing (SMM), and conversion rate optimization (CRO). Eric also spent several years at ADP, working as an online marketing analyst and senior SEO manager. While at ADP, Eric led the SEO efforts for more than 1,700 website clients of the ADP Digital Marketing System and co-managed a search marketing department of 19 analysts and customer service representatives.
Eric received an Associate in Science degree in Graphics, Multimedia and Web Design Technology from the New England Institute of Technology.
"Andrew's experience working on both the agency and client side, and his ability to execute successful integrated marketing campaigns, is an immeasurable asset for the agency and our clients," said Monica Sullivan, president, d50 Media. "In just a short time, Eric has had a strong impact on the agency, demonstrating his depth of knowledge of online marketing and expertise in leveraging different content strategies to maximize reach and effectiveness. He consistently provides exceptional strategic guidance for the agency and our clients."
d50 Media leverages technology, data, and creativity to solve our clients' toughest marketing challenges. We combine the right balance of search, display, content, social media, development, and performance optimization to find, reach and convert a client's most valuable customers. Ultimately, we help our clients acquire more business.
About d50 Media
d50 Media is a leading acquisition marketing agency with proven expertise in growing brands through a unique multi-channel approach to optimizing clients' marketing budgets. We reach the right audiences with the right content where and when they are most receptive – fueling engagement and driving measureable results. Our analytics-driven approach allows us to help clients acquire more business by optimizing integrated marketing campaigns across Direct Response TV (DRTV), Analytics, Email, Search Marketing, Affiliate Marketing, Web Design, and Video Content Creation. For more information, please visit http://www.d50media.com.