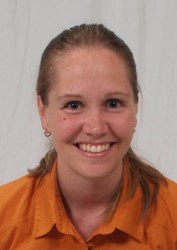 Oakdale, MN (PRWEB) October 02, 2013
Dr. Melissa Eisenschenk, DACVD, began offering dermatology services at the Animal Emergency & Referral Center of Minnesota's St. Paul location in August. She is a University of Minnesota graduate, who recognized dermatology as her true calling after being in private practice for two years. During that time, she became alarmed at how many pet skin problems she saw, especially pet skin allergies. "I loved seeing as many skin and ear cases as I could, and co-workers would send their worst cases to me," said Dr. Eisenschenk. Her own research showed that allergies in dogs appeared to be increasing rapidly, and in equal proportion to the incidence of allergies in people. She became very interested in immunology and how the body learns to "tolerate" some foreign materials but become "allergic" to others.
Eventually, Dr. Eisenschenk decided to pursue her passion with a residency in Veterinary Dermatology and was able to study the immune system simultaneously. She became board-certified and has been practicing veterinary dermatology ever since, always keeping up to date on new breakthroughs, drugs, or treatments for pet allergies and other skin diseases in animals.
"Dermatology is very rewarding for me," said Dr. Eisenschenk. "I find great satisfaction in communicating with clients while developing long-term relationships with them, since most skin problems need to be managed for life. I love the challenge of finding the perfect combination of long-term therapy for each individual pet and fine-tuning their treatments so they are on the least medication possible with the fewest side effects. I spend ample time with clients, and never rush through appointments!"
Currently, Dr. Eisenschenk sees cases at Animal Emergency & Referral Center of Minnesota, 1542 W 7th St., on Wednesdays and Fridays. For pets in the western metro area, Dr. Eisenschenk takes appointments at Pet Dermatology Clinic. Call (651) 501-3766 or (651) 293-1800 to make an appointment, or pet owners can ask for a referral from the family veterinarian.
About the company:
Animal Emergency & Referral Center of Minnesota (AERC) started out with one clinic, one veterinarian, and one technician. Today, they employ a wide variety of doctors and health care team members – all specially trained in emergency and critical care--in addition to a growing referral practice for when pets just aren't feeling like themselves. For more information, please visit their website at http://aercmn.com.