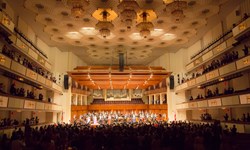 "I am completely enchanted." - Her Royal Highness Princess Michael of Kent
(PRWEB) October 02, 2013
ONE OF A KIND. The Shen Yun Symphony Orchestra masterfully blends ancient Chinese instruments, such as the 4,000-year-old erhu and 2,000-year-old pipa, with a full Western symphony orchestra in what critics are calling a breakthrough in classical music.
Drawing upon the profound culture of China's 5,000-year history, Shen Yun offers a musical experience that truly touches the heart. The program also features masterpieces—like Beethoven's Egmont Overture and Tchaikovsky's Eugene Onegin—performed by a traditional Western symphony orchestra, as well as vocal soloists and more.
Who: The Shen Yun Symphony Orchestra is part of the internationally acclaimed Shen Yun Performing Arts, a New York-based classical Chinese music and dance company. The orchestra features 100 elite musicians from around the world led by four top conductors.
What: Its first-ever U.S. tour, playing in seven of the United States' top concert halls.
When: From now through Oct. 22. An astoundingly successful premier took place at Washington, D.C.'s Kennedy Center Friday, Sept. 27.
Where: Carnegie Hall, New York, Oct. 5
Boston Symphony Hall, Oct. 8
Jones Hall, Houston, Oct. 13
Meyerson Symphony Center, Dallas, Oct. 15
Segerstrom Concert Hall, Costa Mesa, Oct. 18-19
Davies Symphony Hall, San Francisco, Oct. 22
Tickets: http://tickets.shenyun.com/c/_s-WEnQ4IjI
1. World's 1st Orchestra to Successfully Combine Eastern & Western Musical Traditions
Shen Yun Symphony Orchestra has achieved what many thought impossible: creating a perfect harmony of Chinese and Western musical styles. Ancient instruments like the soul-stirring erhu and the heavenly pipa lead the melody on top of a full Western orchestra, creating a dynamic and inspiring new sound.
"It combines the best qualities of both musical cultures." - Shen Yun conductor Keng-wei Kuo
2. Original Music from the World-Renowned Shen Yun Production
Sewing the Flowers of Heaven: Tells the story of celestial maidens preparing a tapestry of brilliant flowers to give to humankind. This composition by Susan Liu revels in the textures of the erhu and the pipa, two Chinese string instruments thousands of years old.
The Emperor Journeys to the Moon: A story from the great Tang Dynasty (618–906), telling of the vivid dream of Emperor Xuanzong, composed by Gao Yuan.
Dancing for the Divine: An energetic and uplifting piece of music inspired by the pious culture of Tibet, composed by Jing Xian.
And many more, including the majestic Creation and jubilant Snowflakes Welcoming Spring.
3. Western Masterpieces
Showing its great versatility, the Shen Yun Symphony Orchestra will also perform purely Western classical masterpieces (without Chinese instruments): Tchaikovsky's Polonaise from Eugene Onegin, Beethoven's Egmont Overture, pieces for orchestra and three trumpets by American composer Leroy Anderson, and a riveting piece for orchestra and flutes by Anton Bernhard Fürstenau.
4. Vocal Soloists
And the concert is further heightened by several moving pieces performed by the orchestra and Shen Yun's acclaimed tenor and sopranos. Singing in bel canto, their impassioned songs give voice to the virtues that have shaped Chinese culture for centuries.
5. Praise for the Music of Shen Yun:
"The orchestra is top-notch. The music has substance in it. You could feel the message is actually in the music. The energy level of the music is strong, powerful, and full of energy. "

Gary Daverne, New Zealand composer and conductor
"A pleasure to the ear."

"Compliments to the composers that are able to integrate the two kinds of
instruments. Delightful. "

Per Brevig, conductor and professor at The Juilliard School
"Beautiful sound ... strikingly intricate melodies.

"A distinct sound—so expressive. "

Kerry Stratton, conductor of Toronto Concert Orchestra
"Lilting, meditative music.

"The quality of the sound is beautiful. The rhythmic structure is wonderful. It's so precise."

"Lovely traditional Chinese music and fantastic singers."

"It captivated all of my senses."

Alessandra Marc, world-renowned soprano