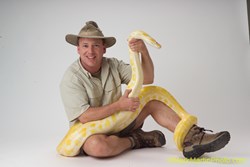 Greg will be instrumental in helping us significantly extend our education efforts both at the zoo and beyond.
Austin, Texas (PRWEB) October 02, 2013
Austin Zoo & Animal Sanctuary announced today the addition of Safari Greg to the team. Safari Greg will join Austin Zoo as the Zoo Ambassador and will take charge of the Outreach Department to create education programs and events designed to help kids better understand the important roles of nature and wildlife in today's world.
"We are tremendously grateful to have someone of Greg's talent and caliber on our team," said Patti Clark, director of Austin Zoo & Animal Sanctuary. "In addition to rescue and rehabilitation of our animals, education is a vitally important part of our mission. Greg will be instrumental in helping us significantly extend our education efforts both at the zoo and beyond."
Safari Greg, also known as Greg Carter, is part of a fifth generation ranching family that has dedicated time and energy to nature and wildlife preservation. Carter studied animal and wildlife sciences at Middle Tennessee State University and Texas Tech, worked for ten years in wildlife management before becoming an educational entertainer.
Safari Greg is one of the busiest kids educational entertainers in the country, performing more than 350 shows annually. The focus of the shows is on the preservation of wildlife, as well as proper and responsible animal care.
"Working with the team at Austin Zoo is an ideal situation for me," said Greg Carter, aka Safari Greg. "Their mission is very much in line with my philosophy regarding wildlife preservation and education. I'm very much looking forward to what we can accomplish together."
For more information about Safari Greg, upcoming shows, or to book a show, contact Austin Zoo directly at 512-288-1490. Safari Greg will be performing two shows daily at Boo at the Zoo.
About Austin Zoo & Animal Sanctuary
Austin Zoo is a 501(c)(3) registered non-profit organization. Austin Zoo relies on private donations, gate admissions, grants and sponsorships to continue to care for the animals under their care, and to be able to take in new animals that need a safe home. Austin Zoo currently houses more than 300 animals from more than 100 different species. For more information, visit http://www.austinzoo.org.
###