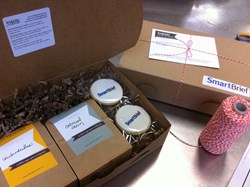 We can't thank you enough for making the gifting process so easy! Our clients raved about how beautiful and delicious everything was and loved the fact that their gifts supported hurricane relief efforts. - L. Sheridan, Office Manager, New York
New York City, NY (PRWEB) October 21, 2013
The Baking for Good Holiday Gift Guide provides corporations an opportunity to purchase delicious personalized holiday desserts while simultaneously "giving back." This sustainable online bakery is proud of its social mission: 15% of the net proceeds from each purchase goes to a cause of the customer's choice. In the last four years, more than $45,000 in donations has been granted to more than 200 nonprofits.
These irresistible handmade treats from Baking for Good are as visually stunning as they are scrumptious. Attractively packaged gift boxes feature personalized edible image cookies, festive gingerbread and iced sugar cookies, whoopie pies, brownies, and more. Also offered are dairy-free, gluten-free and vegan options. Another bonus: all orders can be personalized with gift cards and marketing materials if placed by December 1st, 2013.
To take advantage of the 15% early-bird discount, orders must be placed by Thursday, November 15. Baking for Good also caters locally in the NYC area working with Seamless.com to fulfill orders for staff meetings and special events.
Outstanding customer service, nationwide shipping and/or local delivery make corporate gifting hassle-free. For a copy of the Baking for Good 2013 Holiday Corporate Gift Guide, contact jay(at)bakingforgood(dot)com or call 888.684.4644.