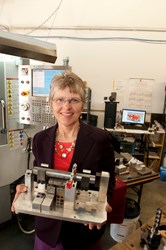 Rentapen's team is looking forward to showing the community how we make shims and weld fixtures at the Open House.
Waukesha, WI (PRWEB) October 03, 2013
Friday October 4, 2013 is National Manufacturing Day. Rentapen Inc., along with other facilities across the country are opening their doors to students, parents, and educators.
At Rentapen, students will have the opportunity to sit at a real 3D CAD Station and create 3D models of parts and create assemblies using Rentapen's RAPid Tooling Components™. These weld fixture components have been called "Legos for machine designers" and are manufactured on site at Rentapen.
The purpose of National Manufacturing Day is to highlight the importance of manufacturing to the nation's economy and to draw attention to the many rewarding high-skill jobs available in the manufacturing fields.
"We are proud of what we do here at Rentapen," said Susan Straley, President of Rentapen. "We want to show that manufacturing jobs pay well and the jobs are safe and clean and often times enjoyable."
Rentapen uses 3D CAD software to design weld fixtures, send files to the laser and CNC machine for creating steel blocks, plates and shims.
With the gap growing each year between the skills students learn in school and those they will need on the job, manufacturers are opening their doors to increase interest in the kinds of jobs available in manufacturing.
Those attending the tour will see the laser cut through thin metal to make steel adjustment shims and die-sharpening shims. They will watch the computer mimic the machining of parts before they are sent to the CNC.
The goals of Manufacturing Day are to educate young people and their parents about the growing career opportunities in engineering and manufacturing and to remove any negative myths surrounding manufacturing.
Rentapen's Open House will be held from 10 to Noon, Friday, October 4, 2013, at 400 Travis Lane #30, Waukesha, WI. Those planning to attend should call Sue at 262-542-8891 to register for a tour.