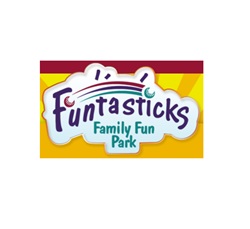 Tucson, AZ (PRWEB) October 03, 2013
In partnership with Halloween Express and Flowing Wells High School Tech Department and Drama Department, Funtasticks Family Fun Park is excited to announce that Haunted Laser Tag is coming to their indoor facility through the month of October. Featuring multiple levels of professional quality decorations, Halloween themed atmosphere and even live actors, the thrilling experience is designed to accommodate all ages of guests. Call today for reservations in Tucson, AZ's largest indoor laser tag arena.
At a whooping 5,200 square feet the indoor laser tag arena at Funtasticks Family Fun Park stands an imposing 3 levels tall; and this October, each level has been expertly decorated with upper-tier decorating equipment from Halloween Express, Tucson's premier Halloween themed store. Crawling with staff portraying famous horror movie villains such as Michael Myers and Jason, the Funtasticks Family Fun Park Haunted Laser Tag is a one-of-a-kind experience in Tucson, AZ, this October.
Utilizing the abilities of some of Tucson's most talented youths at the Flowing Wells High School Tech and Drama Departments, Funtasticks Family Fun Park indoor laser tag arena has been transformed into an interactive haunted house; complete with an eerie atmosphere that rivals that of any professionally crafted attraction. Designed to be enjoyed by all ages, decorations are fit to give even the youngest children a thrill, without being too much to handle. Ask the cashier about accommodations for the youngest children, whom are grouped into their own laser tag rounds that have certain frightening elements (such as the live actors), removed.
Haunted laser tag accommodates up to 30 participants per 10 minute game, divided into a choice of 2 or 3 teams. Featuring group rates and deals for advanced reservations of 10+ guests, Funtasticks Family Fun Park is excited to get into the Halloween spirit and offer a family friendly, thrilling attraction that Tuscon, AZ will greatly benefit from.
For more information about setting reservations or private parties, please contact Funtasticks Family Fun Park at:
Funtasticks Family Fun Park
221 E. Wetmore Rd.
Tucson, AZ 85705
(520)888-4653 ext.11