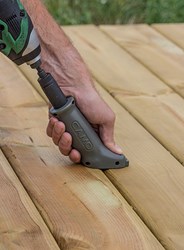 "...Because when you see the results, and more important, see what you're missing - no installed gap, no surface fasteners, no splitting and cracking, and no expensive price tag – you see why you won't want to use anything else." - W. Scott Baker
Grand Rapids, Mich. (PRWEB) October 03, 2013
On October 17-18, 2013, National Nail Corp.'s CAMO Fasteners will be exhibiting at the 2013 DeckExpo in Chicago at the Lakeside Center at McCormick Place. CAMO will be featured in Booth #2337.
"We are debuting the CAMO Marksman Edge, our new no-gap technology for installing treated wood decks," said W. Scott Baker, President and CEO of National Nail Corp. "Attendees won't want to miss seeing it at the show, because when you see the results, and more important, see what you're missing - no installed gap, no surface fasteners, no splitting and cracking, and no expensive price tag – you see why you won't want to use anything else."
CAMO is a proud sponsor of DeckExpo's Deck Workshop, hosted by renowned builder Mike Guertin. The Deck Workshop runs during exhibit hall hours on Thursday and Friday, and presents topics that introduce builders to new products and best deck-building practices to build the safe, durable, low-maintenance decks clients' desire. Mike Guertin will be demonstrating the new CAMO Marksman Edge at 12:30-12:45 on Thursday and 1:30-1:45 on Friday.
The CAMO booth will demonstrate the CAMO Marksman Edge, a contractor-grade tool that allows a no-gap installation of treated lumber with a beautiful fastener-free surface.
CAMO Fasteners will hold multiple drawings throughout the show hours. Each day, one lucky person will win a 500 square foot CAMO Edge Deck Pack that includes two Marksman Edge tools, a 1750 ct. pail of 1-7/8" CAMO Hidden Fasteners, a CAMO t-shirt and CAMO hat. In addition, there will be other drawings throughout both days for CAMO products and CAMO gear. Attendees can enter to win by filling out a card at the CAMO Fasteners booth.
Along with the Marksman Edge, CAMO Fasteners will display and demonstrate the complete lineup of Marksman tools and CAMO Hidden Fasteners, as well as CAMO Exterior Screws that include cutting edge Premium Deck, Composite, Stainless Steel and Structural screws.
For more information, please visit http://www.camofasteners.com or call 1-800-968-6245 ext. 2134. Be sure to "Like" CAMO Fasteners on Facebook and keep up with CAMO news, stories, photos and events by signing up for the CAMO Connection.
National Nail Corp., headquartered in Grand Rapids, Mich., is an employee-owned manufacturer and distributor of high quality, innovative building products and service solutions for the residential and commercial construction industries. Other National Nail brands include Pro-Fit® Fasteners, STINGER® Cap Systems and Impressions Storm Doors and Windows.