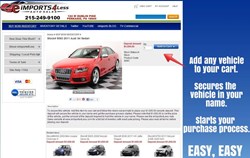 Offering our inventory directly to our clients is just one more way that eimports is using technology in place of salespeople to make the purchase process more efficient and save clients money.
Perkasie, PA (PRWEB) October 04, 2013
Buying your next pre-owned BMW, Mercedes, Porsche, Audi or other luxury vehicle just got easier. eimports4Less Auto Sales, a leading online seller of pre-owned luxury automobiles and eBay top 10 worldwide seller, has just launched a new website at 247Deposit.com to give 24/7 access of their entire inventory to the mass public.
Websites that offer dealerships access to other dealers' inventory have been around for a few years. Large companies like Manheim Auctions have launched sites that allow dealers to buy direct from other dealers without the hassles and delays of talking with salespeople to get the purchase process started, but this is the first time that any dealership has offered this sort of direct access to the public.
This new service allows any person to find a vehicle online and place their deposit to secure that vehicle 24/7 with a simple, secure shopping cart check-out feature.
This service is now available to anyone, private citizens and dealers alike. Whether you've already spoken to a representative or visited their physical dealership location or not. The process is the same simple checkout for everyone.
Once the deposit has been placed, your purchase process is started. The vehicle is immediately removed from active inventory and no one else can step in and purchase the vehicle before you. A customer service representative from the dealership will then be in touch with you during business hours to complete the paperwork process.
eimports4Less has been a leader in online vehicle sales for the last 13 years, so the paperwork and purchase processes have been severely streamlined when compared to other dealerships. Many purchasers never visit the dealership location, so all necessary paperwork is handled via fax or email.
eimports also specializes in vehicle transport. Your new vehicle can be shipped to any location in the U.S. or around the globe with the click of a mouse.
Purchasing a luxury vehicle cannot get much easier.