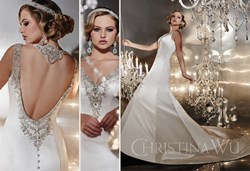 Our passion is to ensure that brides-to-be are happily ever after in a Christina Wu gown.
Fort Myers, Florida (PRWEB) October 02, 2013
Christina Wu bridal gowns took center stage for House of Wu at the National Bridal Market in Chicago, creating noteworthy buzz from retailers across the nation. The collection's competitive price point and deep selection of exquisitely crafted bridal gowns had show attendees saying "I Do."
"Every new season unveils new fashion trends and the bridal niche is no exception," said Wen Wu, President of House of Wu. "We are truly delighted with this season's Christina Wu collection, there is a breathtaking Great Gatsby glam feel that will touch the traditional or fashion forward bride-to-be."
Gowns graced the runway in shades of champagne, ivory, silver and classic white – even a black wedding dress offset with an elaborate silver lace embroidery with delicate crystal beaded bodice floated down the aisle. The collection boasts stunning open back styles, sweetheart lines with hints of gold and silver metallic and a Majestic Blue lace accentuated with a dazzling beaded belt attached at the natural waist.
"Our passion is to ensure that brides-to-be are happily ever after in a Christina Wu gown. House of Wu designers understand that every girl has their own vision of their wedding day. The gown they chose should express their personality," said Wu.
To find an authorized Christina Wu retailer, please visit our store locator.
About House of Wu
House of Wu is an international designer and industry leader in the bridal and formal wear industry, for over 20 years. With 15 designer labels and three designers on staff, House of Wu collections target a specific style with focus on design, fit and fabrication at an affordable price.
House of Wu design labels include Christina Wu, Dere Kiang, Jacquelin Exclusive, Private Collection, Serena London, Pretty Maids, Tiffany Designs, Tiffany Princess, Hannah S, Panoply, Panoply Pageant, Studio17, Cara Mia, Quinceañera Collection and Fiesta.
House of Wu has a network of more than 1,200 stores selling the company's design labels throughout the United States, Canada, Europe, Mexico, Puerto Rico, the Middle East, Central and South America Caribbean. The company's corporate headquarters are in Fort Myers, Florida. House of Wu also maintains a showroom in Atlanta and a manufacturing and distribution center in China. Become a fan of House of Wu on Facebook and follow us on Twitter.