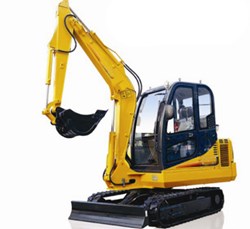 The injured employee was put in serious danger and could have been killed because there was no safe method for cleaning the excavator.
Bolton, UK (PRWEB UK) 10 October 2013
The company was prosecuted by Nottingham Magistrates' Court, on Monday 23rd September, after the Health and Safety Executive identified safety failings within their work practices. (Court Reference Number M-230/13)
On the day of the incident, the victim, a 40-year-old man who preferred to remain anonymous, was cleaning a two-and-half tonne excavator. It is alleged that the worker was told to do the work quickly, as the vehicle was due to be hired out the same day. (1)
According to the HSE, rather than using jack-stands to hold the vehicle in place, it was raised off the ground by its excavator arm and shovel blade, while a jet washer was spraying the moving vehicle tracks. (1)
As the worker was completing his task, his foot became trapped under the track, causing him to be dragged closer to the machine. Allegedly, in a bid to help, a second worker tried to stop the tracks by hitting two side levers in the cab. Unfortunately, this caused the excavator to lurch forward, trapping the worker. (1)
As a result of the unsafe cleaning operation, the worker suffered four fractures to his pelvis, a dislocated thumb and soft tissue damage to his left hand and both legs. (1)
Commenting on the news, Thomas Fairclough, Asons Executive at Asons Solicitors, said:
"This was an entirely preventable injury, caused by disregard for basic safety rules. It is alleged that there was no formal safe system of work for the cleaning task.
"Any health and safety compensation awarded as a result of this accident at work can't undo the damage caused. This accident could have been easily avoided, had the suggested health and safety improvements been implemented. In this case, they were not."
Speaking after the hearing at Nottingham Magistrates' Court, HSE inspector David Butter said:
"The injured employee was put in serious danger, and could have been killed because there was no safe method for cleaning the excavator.
"The machine manufacturer recommends jack-stands are used to hold it in place, and not to service or adjust the machine while the engine is running.
"That guidance was clearly ignored, and to have the engine running was both dangerous and unnecessary. Simply cleaning the tracks while the vehicle is stationary, then moving it to expose the unclean tracks and stopping it, before continuing to clean it, would have be the safest and simplest way of doing the work." (1)
The Nottinghamshire-based company was fined £11,000, and ordered to pay prosecution costs of £6,400, after pleading guilty to breaching Section 2(1) of the Health and Safety at Work etc Act 1974. (1)
Asons Solicitors have a wealth of experience in dealing with machinery injuries cases, and have been exposed to a variety of working practices that endanger the health and safety of employees on a regular basis.
Asons Solicitors suggest, that if someone would like to learn more about the consequences of an accident at work, or if they would like to better understand the Health and Safety Claims process, that information is available at http://www.asons.co.uk, or via an expert helpline on 01204 521 133.
(1) HSE, 25th September 2013 hse.gov.uk/press/2013/rnn-em-23013.htm
About Asons Solicitors:
Asons Solicitors is a Bolton-based law practice that specialises in personal injury and industrial disease claims. Founded by brothers Imran Akram and Kamran Akram, Asons Solicitors has developed to become a young and dynamic law firm that delivers practical solutions to clients in times of difficulty. Their continued focus on their staff has seen them awarded with the Investors in People "Gold Award"; which is reflected in the professional and personable approach they take in working with clients. They strive to grow and to develop, and their supportiveness and attention to detail ensures that their clients use them time and again.
For further information contact:
Email: info(at)asons(dot)co.uk
Website: http://www.asons.co.uk