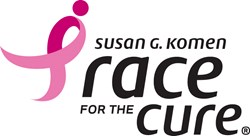 We are so thankful for all the individuals, team members, team captains and sponsors who have joined us this year.
Charlotte, NC (PRWEB) October 02, 2013
Good weather conditions are expected for Saturday's 17th Annual Race for the Cure® in uptown Charlotte's Marshall Park. Early morning temperatures will be in the 60's, climbing to low 80's later in the day under partly cloudy skies. Chance of rain is only 20 percent.
DeAngelo Williams, star running back for the Carolina Panthers, has challenged all NFL fans to join Williams Warriors or another team in the battle against breast cancer. "Everyone knows someone who is affected by this disease," said Williams, whose mother is a two time breast cancer survivor and his "Rock." Williams' mother, Sandra Hill, survives her four sisters who all lost their battles with breast cancer. "Let's work like a team and help find the cure," said Williams.
Third generation race car driver Taylor Stricklin invited all NASCAR fans to join the cause. "We race every weekend, but this race is the most important," said Stricklin. "There are many wonderful survivor stories, but too many people still do not win the battle. That needs to end. Let's get together at Race for the Cure and make a difference." Stricklin, grandson of NASCAR legend Donnie Allison, will display his race car and greet fans on Saturday.
"We are so thankful for all the individuals, team members, team captains and sponsors who have joined us this year," said Lori Vaccaro, executive director of Komen Charlotte. "We really can't do it without the community's support and dedication."
Online registration is open through Thursday, October 3, at Komen Charlotte's website http://www.komencharlotte.org. Participants can register as an individual or join a team. Individuals can also register on race day at Marshall Park. Those unable to attend can contribute to an individual or team online.
The Komen Charlotte Race for the Cure showcases a 5K timed race, 5K non-competitive walk/run, one-mile route, 50-yard kids' dash, race expo, food truck rodeo, music and Survivor's ceremonies.
Festivities begin at 6:00 a.m. with the timed run beginning at 7:15 a.m., and the walk/run beginning at 7:50 a.m.
Komen Charlotte's goal is to raise $1,000,000. A maximum of 75 percent of net proceeds will go to the local community to help uninsured and underinsured women receive breast cancer education, screenings, diagnostic services and treatment support. Komen Charlotte serves a 13-county area including Mecklenburg and 12 surrounding counties. The additional 25 percent will support the Komen National Research Grant Program, which funds major research programs across the country, including research at North Carolina Universities.
Race for the Cure® registration:
Contact:
Lynda Stadler, Director of Marketing
Susan G Komen Charlotte
T: 704.347.8181
l.stadler(at)komencharlotte(dot)org
Robert B Butler | http://www.NCPressRelease.com