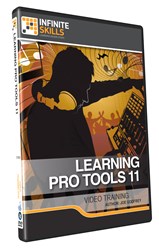 Learn Pro Tools 11, a leading sound recording software, at your own pace
(PRWEB) October 04, 2013
Software training firm Infinite Skills this week released its "Learning Pro Tools 11 Tutorial," an introductory course covering essential tools used in common applications of this leading sound recording software.
Pro Tools is a digital audio workstation used widely by music professionals for recording, editing, and mixing, in the music production process. Pro Tools 11 includes many updated and new features, including 64-bit processing and re-tooled audio and video engines.
Infinite Skills' "Learning Pro Tools 11 Training Video" offers more than six hours of intensive, expert-guided training in Pro Tools fundamentals, exploring all the tools and techniques for using Pro Tools in live and studio settings, as well as integrating with a video timeline for soundtracks.
Learning Pro Tools 11 Video Training
Course author Joe Godfrey is an accomplished musician and composer with a number of stage and screen arrangements to his credit. He is best known for his work in advertising. In 2008, Godfrey accepted the position of Academic Director of the Web Design and Interactive Media Department at the Art Institute of California at San Diego, and in 2009 became the Academic Director of the Audio Production Program. He is Apple Pro Certified in Final Cut Pro.
Godfrey's extensive experience in composing and recording brings a practitioner's eye to the course, basing complex techniques and concepts in practical application.
After covering Pro Tools basics, exploring the time line, how to import audio, and perform basic edits, Godfrey demonstrates how to customize the program by using its file structure, preferences, navigation features, and more.
To begin illustrating how to record in Pro Tools, Godfrey then looks at simple voice recording, explaining input options, setting up a cue, and other basic effects and features for voice recording.
From there, the course advances to working with music tracks, explaining how to work with tempo an matching, performing edits, and using fades and crossfades.
Other chapters cover how to track instruments, how to sound design in Pro Tools, using MIDI, and editing sound for use in video productions.
"Whether you're recording a band, mixing live, or alone at your desk composing, or if you're a sound designer working for radio or theatre, protools can do all this stuff," Godfrey says. "This course is designed to provide a basic skill set to use Pro Tools in all these recording situations."
Free demo videos and a full list of course contents can be found on the Learning Pro Tools 11 training page of the InfiniteSkills website:
http://www.infiniteskills.com/training/learning-pro-tools-11.html
InfiniteSkills offers its Learning Pro Tools 11 Tutorial either as a DVD or a direct download from the company website at a retail price of $99.95. Though the compatibility of programs varies, all InfiniteSkills titles and formats are compatible with both Mac and Windows operating systems, and shipping is available around the globe. Additionally, InfiniteSkills tutorials are supported by project files which correspond to examples in the videos.
About Infinite Skills Inc.
A leader in the field of software training, Infinite Skills designs its courses on a task-oriented model, teaching complex skills by providing hands-on examples and guiding users as they carry out essential functions. Infinite Skills offers a wide range of software titles available as DVDs, digital downloads, and in iPad editions. Infinite Skills now offers a subscription service, providing access to all its training content for a monthly fee, keeping with company's aim of delivering professional training to customers anywhere they want to learn.